Sunday, 28 March 2010

6:00 PM.Te Aroha Pono: How Maori find love - the first in the Whakatewhatewha series. Audio
28 Poutu te Rangi (March) 2010
"He Māori mau mai te Rangi ki taku upoko ki te whenua."
I'm a Māori from Ranginui, from the tip of my head to this land that I stand on.
This week's whakatauki was explained by Amster Reedy no Ngāti Pōrou.
A new documentary series looking at an issue in depth, Whakatewhatewha, is being launched this weekend in Te Ahi Kaa.
The first programme, Te Aroha Pono, looks at how Māori find love. What do you do? Put faith in your old people, yourself, or social-networking sites when it comes to selecting a life partner? Are partners for life? If so, is there a checklist of qualities? Can a relationship survive cultural differences? Justine Murray has spent the past couple of months asking these questions concluding that Māori, traditionally and now, take love seriously. Very seriously.
Though initially resistant, Amiria Manutahi Stirling nee Haerewa (1896c-1983) eventually came around to Eruera Kawhia Whakatane Stirling (1899-1983) when it was proposed she marry him through a taumau/tomo (arranged betrothal). An archival recording has Amiria talking about that period in her life.
A meeting with Amiria Stirling when Anne Salmond was 18 years old led to a lifelong friendship with the Stirlings and eventuated in a series of books Hui: A study of Maori ceremonial gatherings (1975), Amiria: The life story of a Maori Woman (1976) and Eruera: The Teachings of a Maori Elder (1980) all giving insight into a Māori world that was slowly disappearing.Salmond talks about her relationship with the couple.
As a supporter of tomo/taumau, Ngāti Pōrou Amster Reedy believes Māori should ideally either marry within their iwi or to other Māori. He explains why.
So, what about those who don't marry Māori? How does it work when you marry outside of your culture - like Anton Blank's mother Arapera Kaa did when she married his Swiss father, Pius Blank, in the late 1950s. He talks about the challenges and triumphs he witnessed during his parents 44-year-long marriage, that only ended when his mother died in 2002.
Māori boarding schools Te Aute College, Te Hauke and Hukarere Girls College in Napier set the stage for what has been a 50-year-long love story. Mike and Julie Dwyer met in 1957 through mutual friend Rowley Habib and the Māori-Pākeha couple are still going strong. They share memories from their courting days and wedding day hijinks.
Puawai Cairns is a thirty-something, professional, single Māori woman who is yet to find Mr Right. She just wants to make sure he's Mr Māori.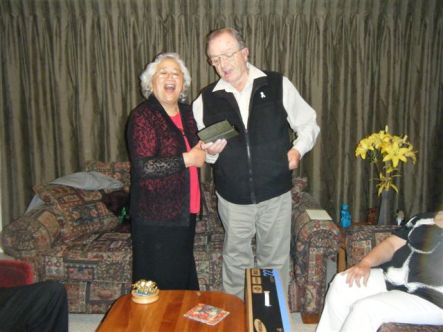 Julie and Mike Dwyer celebrating 50 years of Marriage in December 2009.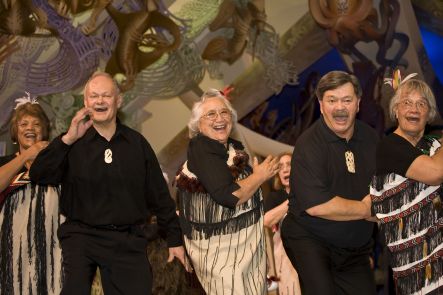 Julie Dwyer (middle) performing with Te Roopu Taahiwi. Left to right: Donas Nathan, Bill Nathan, Julie Dwyer, Danny Stephens, June Tangaere.