Sunday, 29 November 2009

9:00 AM.Te Ahi Kaa talks with Dr Maria Bargh about how Maori stack up compared to other indigenous nations when it comes to alternative energy solutions. Audio
29 Whiringa ā Rangi (November) 2009
"Mahia ngā mahi, kei tamariki ana"
Work energetically while young
This week's whakatauki was explained by Waitangi Teepa nō Ngai Tūhoe
While challenging, Bob Northover finds the counselling work he does for Gisborne-based organisation Men for Change [1] very rewarding when it results in behaviour change. He explains what he does and in the process demystifies the wrongly held belief that Māori men are predisposed toward violence.

Dr Maria Bargh was excited when she saw the ways indigenous nations in Canada are actively pursuing alternate energy solutions and she's convinced Māori could adopt some of the solutions here.
Read Bargh's Aboriginal Peoples in Canada involved in Energy report.
For organic food advocate Kerrie Beattie it's all simple really - sick food results in sick people. But are organics a realistic option for financially-stretched rural Māori communities? This conversation, and others, erupts when Maraea Rakuraku sits in on a kōrero between Beattie, and the staff and students of the Horticulture and Agriculture courses offered by Tairawhiti Polytechnic.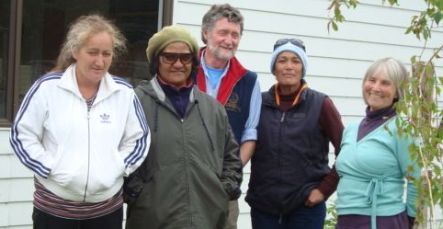 Tairawhiti students, from left, Soraya Pohatu, Lillian Gray, Kerry Beattie, Rose Tuhura, Kerry Haraki.
[1]This interview was done in February 2009. In September 2009 Men for Change closed down.