Sunday, 14 December 2008

6:06 PM.Minister of Maori Affairs Dr Pita Sharples speaks candidly about the education system and its failure towards Maori. Audio
14 Hakihea (December) 2008
" E tu i mua o te ra, kia kore ai koe i kitea te ata"
Stand face the sun, so you never see the shadows behind you.
Explanation by John Rangihau
Maraea Rakuraku is at Te Aute College in Hawkes Bay where Ngāti Kahungunu Iwi hosted a haka pōwhiri in honour of Māori Partyco-leader, Dr Pita Sharples and his new role in parliament as the Minister of Māori Affairs.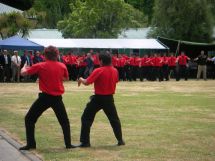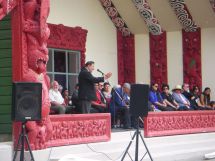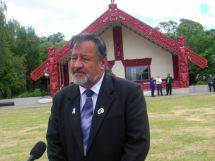 Te Aute College whanau host the haka powhiri for Pita Sharples.
Returning to his former secondary school where tributes, congratulatory messages and humour was shared, Sharples whose other ministerial post includes Associate Minister of Education joked Te Reo Māori would become compulsory under his leadership. Maraea assesses how realistic that is when she meets with the Minister a few days later in his new office at Parliament, for a candid chat.
Māori music is full of trailblazers who in responding to popular culture blend kaupapa Māori with what they're hearing at the time. Ngati Kahungunu, composer Tommy Taurima, did that when he wrote a song Terinadedicated to his mokopuna Terina Pomare, and put it to the signature tune Aqua Marina of 1960's Television programme, Stingray.Terina Pomare and Taurima have continued their collaborations, this time with the students of Mangateretere School, Whakatau and Irongate School, Hastings. A one off musical performance, displaying their efforts Tiakina mai ia matou, Protect us featuring Mangateretere School takes place at the Hawkes Bay Opera House on the 18th December, 2008.
Ora Brown, Sarah Beattie and Kim Halliday make up Pacific Curls blending their respective Māori,Celtic and Rotuman ethnicities together in a wild music cacophony helped along by the Peruvian drum, fiddle, guitar and ukulele. Previously known as Planet Women, Pacific Curls has undergone a number of lineup changes since they formed five years ago. Justine Murray and Maraea Rakuraku met with the musicians at Paopaopao, the Maori Music Summit where according to fans they were a highlight.
"I am a Māori…..I do not want to be anything else." -John Rangihau, 1986
Ever the poignant spokesman, this is how John Rangihau opened his address to the National Party in 1986. Before moving into serious discussions affecting Māori at the time, Rangihau tells a joke involving a spaceman in Ruatāhuna and in doing so gives a good natured ribbing to our Australian neighbours.
Ngā Kupu Hou / New words to learn
Whakama - shy
Raumati - Summer
Rākau - Tree
Nahinara - National
Kaitito Waiata - Writer of Song, Composer
Haka Pōwhiri - Welcoming haka
The website where you can subscribe for the Māori word of the day or He kupu o te ra is http://kupu.māori.nz/
Waiata featured include:
Pinepine te kura performed by Te Aute College, 1993 on Te Aute Haka and Song
Te Haka o Te Aute Kāreti as performed at the powhiri for the Minister of Māori Affairs, Dr Pita Sharples
Terina composed by Tommy Taurima and performed by Howard Morrison on the album This is my life
A range of waiata from Pacific Curls as performed live at PAOPAOPAO, October 31st, Wellington
Somewhere over the Rainbow - Those Red Shoes as performed by Pacific Curls on the album Pacific Swing