Sunday, 9 November 2008

6:00 PM.Rawinia Paku overcame many challenges to rise to the top of her game as a bodybuilder as Justine Murray finds out. Audio
09 Whiringa a Rangi (November) 2008
"Mai Te Kore, Te Po ki te Ao Marama."
From the emptiness and the darkness to the world of light
Voiced and explanation by Dean Whaanga no te motu pohue.
The Inaugural Takitimu festival kicks off at Waikoko Gardens/A and P Showgrounds, Hastings from November 12th - 16th and it's sure to be a family affair. By drawing together all the descendants of Takitimu waka, organiser Tama Huata is hoping links between Aotearoa and the Pacific Islands, where Takitimu waka originated from are strengthened. Spread over a four day period, the entertainment includes a mixture of contemporary sounds (Spacifix,Ardijah) and traditional art forms such as kapa haka and wananga aimed at reflecting and preserving Takitimu identity. Huata describes to Maraea Rakuraku the significance of the event.
Te Ahi Kaa relaunches the series, Nga Marae o te Motu (Marae of New Zealand) with a tour of Te Rau Aroha Pa, Bluff named in remembrance of the bus that traveled Aotearoa during the First World War period, receiving donations for soldiers. It was under the tutelage of tohunga whakairo, Cliff Whiting the Awarua runanga complex really took shape, opening in 2003. Dean Whaanga shows Maraea Rakuraku around his marae.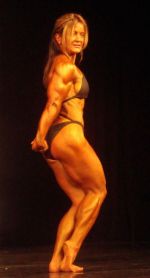 Consuming a diet that is mostly chicken, beans, potatoes, egg whites and protein shakes, is the norm for female Māori bodybuilder Ngāti Kahungunu, Ra (Rawinia) Paku. Competing on the amateur circuit since 1996, she is on track to achieving professional status this year.
In a sport dominated by drug and steroids, it has taken commitment and determination by the athlete to train her body and mind to meet the demands of the sport. Justine Murray met with Rawinia (pictured right) at a recent National Amateur Body Building Association event.
Waiana Jones received one of the two 2008 Karahipi a Te Waka Toi (Creative NZ Scholarships). Studying at the Auckland University of Technology (AUT) in the Art and Design faculty, Jones has every intention of taking her studies to doctoral level. Designing images through computer programmes such as 3D Max, she incorporates Tikanga Maori, raranga, harakeke and whakapapa into her work. Justine Murray is with her at Nga Taonga Toi a Te Waka Toi.
Ladi6 aka Karoline Tamati debuted her solo album, Time is not much earlier this month. Her track More than fake closes the programme.
Nga Kupu Hou / New words to learn
Wharenui - Big house
Wharetipuna - Ancestral house
Wharemoe - Sleeping house (quarters)
Te Hui Ahurei - Gathering, festival
Ra whakangahau - Gathering,event, festival
Wharekai - Kai House (Place of eating)
Waiata featured include:
Kahungunu by Kahurangi from Magically Maori
More than fake by Ladi6 from Time is not much