Sunday, 2 November 2008

7:30 PM.In 2005 remnants of a Pa from the 1800's were discovered metres from mainstreet Wellington, Maraea investigates. Audio
2 Whiringa a Rangi (November) 2008
"Iti Rearea teitei kahikatea, Ka taea. "
Even the small rearea bird can ascend to the great heights of the Kahikatea tree.
All people can seek out the world of knowledge and education.
Voiced and explanation by Te Makarini Tēmara (Tuhoe)
In 2005, work began on a new apartment complex Bellagio Ataahua in one of the main streets of Wellington. What seemed like a straightforward construction became something more complex when a significant archeological discovery was unearthed. Whare ponga (storage huts) dating from the 1800s were found at what was once the site of Te Aro Pa. Construction was suspended while negotiations took place, and a plan of action was drawn up between the affected parties. Not an easy task when it involved the Wellington Tenths Trust, the Wellington City Council, Historic Places Trust, Te Ati Awa Iwi and the developer, Washington Development Ltd. Yet, at its unveiling as a tourist attraction on the 11 October 2008, the relationships were being celebrated as a successful collaboration. Dean Whiting (Te Whānau ā Apanui) of the Historic Places Trust describes their involvement to Maraea Rakuraku.
In an extended web version of this interview, Te Hope Hakaraia, Convenor of Rangiatea Church in Otaki, describes the gifting of Pou to stand at the site in recognition of the relationship between Te Ati Awa and Raukawa Iwi, while Te Waari Carkeek (Raukawa) and Te Miringa Hohaia (Parihaka) reveal links as found in their respective oral histories.
Described by her mum as a magpie, Aimee Rose Stephenson's (Ngāti Marau) childhood fascination with turning junk into art seems to be paying off, as she was named one of the recipients of the 2008 Te Karahipi a Te Waka Toi (Creative NZ Scholarships). In the second year of her honours degree at Massey University studying Māori Visual Design, Stephenson is in the process of completing works for an upcoming exhibition that, somewhat controversially, uses human hair and in doing so, challenges tikanga Māori.
Tawhiri Henare (Ngati Kahungunu) is a shining example of an athlete adhering to disciplines of commitment, perseverance and dedication in his pursuit of sporting excellence. While his upbringing in Palmerston North was troubled, sport has provided him with the freedom to successfully cross over sporting codes. Coming from a strong rugby league background, Henare was sidelined following a ligament injury. Not one to sit on the couch, and with encouragement from his peers, he took up bodybuilding. That was in 1996. Like Daisy Duke, from the Television programme, The Dukes of Hazzard, Henare describes his legs as his trademark, hoping one day to secure sponsorship for them. Justine Murray is at the 2008 National Preliminary Body Building Championships.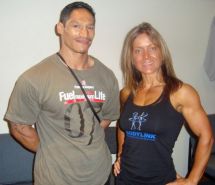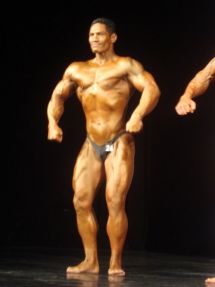 Left: Tawhiri Henare and Ra Paku.
Right: Tawhiri Henare strikes his muscle poses at the National Amateur Bodybuilding event.
Kupu Hou (New Words)
Tinana - Body
Pohara - Poor
Muscle - Maihara
Creative - auaha
Creative Writing - Tuhinga Auaha
Support - Tautoko