Sunday, 5 October 2008

7:30 PM.Iritana Tawhiwhirangi adds another award to her honour board and Michael Franti is back in town. Audio
05 Whiringa-ā-Nuku (October) 2008
"Iti te Kupu Nui te Korero. "
Although little is said, there is great meaning behind the words.
Explanation by Te Makarini Temara no Tuhoe
"Franti is an artist the size of a forest, his music is merely one tree and All Rebel Rockers is one spiffy branch."
Musician Michael Franti's socially charged lyrics often reference the Māori struggle for Mana Motuhake. His albums, totalling nine at last count, profile the human condition in all its flawed condition. The latest, All Rebel Rockers - produced by legends Sly Dunbar and Robbie Shakespeare, and recorded in Jamaica - is no different. Maraea Rakuraku investigates the links Franti has with Maori.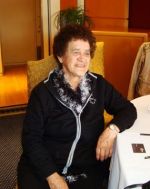 Iritana Tawhiwhirangi (Ngāti Pōrou, Nga Puhi, Ngati Kahungunu me Kānata) is universally acknowledged as a cornerstone of the Kohanga Reo movement. Adding yet another award to her accolades. Iritana however is quick to argue that she feels that there are 'thousands' of people who are out there making positive change in their roles. Iritana was the recipient of the premier award (Te Taonga Tiketike) at the recent Nga tāonga toi a te Waka Toi awards for her contribution to the Māori language.
Recipient of Te tohu tiketike a Te Waka Toi (premier award for her contribution to te reo maori and the Kohana reo movement) Iritana Tawhiwhirangi.
Kupu Hou (New words)
In our weekly Te Reo Māori series, we have outlined the Māori names for political parties. Some of these words are transliterations which means the Māori word is closely based on the English word
Nahinara - National
Reipa - Labour
Aotearoa Tuatahi - NZ First
Paremata - Parliament
Te Paati o ngā Kakariki - Greens Party
Kai torangapū - Politician
Waiata featured include:
Rude Boys Back in Town
Hey World
Sound system
Nobody Right Nobody Wrong
from All Rebel Rockers by Michael Franti and Spearhead