Sunday Morning for Sunday 3 May 2015
7:08 Current affairs
An update from Nepal; a report from RNZI on US expansion plans from Guam; two years after the deadly Rana Plaza fire in Bangladesh, has anything improved for workers? The Week in Parliament, plus – Wallace talks to Mary Wareham, Human Rights Watch arms advocacy director and global coordinator of the Campaign to Stop Killer Robots, who recently attended a UN conference on autonomous weapons in Geneva and was disappointed by New Zealand's "lack of substantive engagement".
8:12 Insight
The damage that some babies can suffer when pregnant mothers drink heavily has again floated into the public consciousness. The Privy Council accepted that the then convicted murderer Teina Pora suffered from Foetal Alcohol Spectrum Disorder. It quashed his conviction for the murder and rape of Susan Burdett and decided that his "frequently contradictory and often implausible confessions and the recent diagnosis of his FASD [Foetal Alcohol Spectrum Disorder] leads to only one possible conclusion ... that reliance on his confessions gives rise to a risk of a miscarriage of justice". The number of people in New Zealand affected by the disorder is unknown, but some estimates indicate that 3000 babies are born with it every year.
Produced by Philippa Tolley.
8:40 Rongomai Bailey – The Closure of Aboriginal Communities
Rongomai Bailey works for Ngaanyatjarra Media – a multi-media company owned by the Yarnangu people of Western Australia. This week he filmed one of the first outback protests against the proposed closure of up to 150 aboriginal communities and recorded an interview with aboriginal elders Elizbeth Marrkilyi Ellis and Daisy Helen Ward.
How some expressions of ANZAC Day dissent copped a backlash, and the intrusion of advertising on the centenary. Also: A veteran editor on the digital future of New Zealand journalism, and further fallout from Ponytailgate. 
Produced and presented by Colin Peacock and Jeremy Rose.
9:40 Katherine Barnes – The Sabotage Diaries
After Katherine Barnes' father-in-law died she made some surprising discoveries about his experiences during the Second World War. She talks to Wallace about Tom Barnes and his Sabotage Diaries.
9:50 Deborah Morris-Travers – A Push for the Rights of Children
UNICEF NZ National Advocacy Manager, Deborah Morris-Travers, talks to Wallace about a new push to improve the lives of New Zealand children living in poverty.
10:06 Alice Cooper – Welcome to my Conversion
Alice Cooper was once described as the most evil rocker in the world. He defined a sound and look, and has sold tens of millions of albums. His catchy rock anthems meant that by the time he was 25, his band was one of the biggest in the world. He talks to Wallace about his conversion to Christianity, hanging out with Jim Morrison, his friendship with Groucho Marx, his admiration for Lydia Ko, and how he was never truly Satanic.
Alice Cooper is coming to NZ with Motley Crue and will play on Saturday May 9, at Vector Arena, Auckland.
10:35 Jake Gorst – Life on Long Island
Jake Gorst is an Emmy Award winning documentary filmmaker and director of Modern Tide, about modernist architecture on the East Coast of the US, and is also director of The Nature of Modernism: E. Stewart Williams – an insight into mid-century modernism in Palm Springs on the US West Coast.
Both films are playing at the Resene Architecture & Design film festival starting in Auckland next week, before moving to Wellington, Dunedin and Christchurch.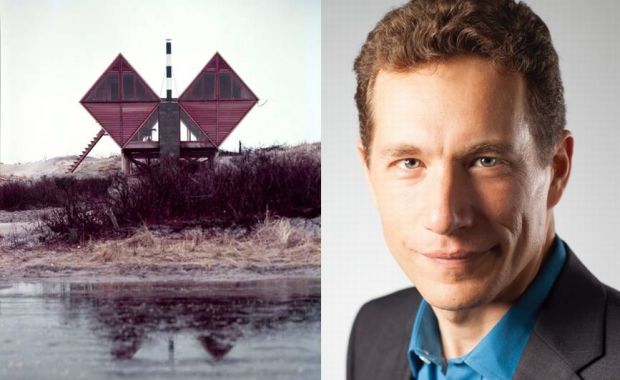 Left: The Pearlroth House of Westhampton Beach, New York, designed by Andrew Geller in 1959. Photo from The Andrew Geller Architectural Archive/Jake and Tracey Gorst Collection. Right: Jake Gorst
11:05 Tim Winton – Australian Classic
Writer Tim Winton has been named an Australian national treasure. His book, The Riders – now considered an Australian classic – was short-listed for the Man Booker prize for fiction, as was his 2002 book Dirt Music. Tim also writes for children, he writes non fiction, and his work has been adapted to opera and films. His latest novel is Eyrie, and he is coming to New Zealand for this month's Auckland Writers Festival.
11:30 Ana Heremaia – ARCO Workshops
Ana Heremaia is an interior architect and one of the founders of ARCO Workshops – an innovative architectural/educational practice in Kaikohe which has seen local rangitahi designing contemporary furniture and even a marae.


Left: Ana Heremaia working with one of the students at an ARCO Workshop. Right: Rangitahi working on a pop-up park
11:45 Brent Edwards – Press Freedom
May 3 is World Press Freedom Day – a date which celebrates the fundamental principles of press freedom; to evaluate press freedom around the world, to defend the media from attacks on their independence and to pay tribute to journalists who have lost their lives in the exercise of their profession. Listeners know Brent Edwards as Radio New Zealand's political editor – but today he's talking to us as EPMU Print and Media Council convener and New Zealand's representative with the International Federation of Journalists.
The annual Press Freedom Debate will be held at the Backbencher tavern in Wellington on Thursday, May 7. Tickets are $25 and can be bought from Brent by emailing him: brent.edwards@radionz.co.nz
Music played in this show
Artist: Yothu Yindi
Song: Gapu
Composer: Traditional. Arranged by G Yunupingu
Album: Tribal Voice
Label: Mushroom
Broadcast Time: 8:40
Artist: Alice Cooper
Song: School's Out
Composer: Cooper
Album: The Best of Alice Cooper
Label: Rhino
Broadcast Time: 9:40
Artist: Alice Cooper
Song: Welcome to My Nightmare
Composer: Cooper
Album: The Best of Alice Cooper
Label: Rhino
Broadcast Time:10:05
Artist: Alice Cooper
Song: Poison
Composer: Cooper
Album: The Best of Alice Cooper
Label: Rhino
Broadcast Time:10:30
Artist: Anika Moa, Boh Runga and Hollie Smith
Song: Over and Over
Composer: Moa/Runga/Smith
Album: Peace of Mind
Label: Sony
Broadcast Time: 10:55
Artist: Yothu Yindi
Song: Hope
Composer: Traditional. Arranged by M Yunupingu
Album: Tribal Voice
Label: Mushroom
Broadcast Time: 11:55