Sunday Morning for Sunday 22 March 2015
7:08 Current affairs
Solomon Islands accuses New Zealand of hypocrisy over spying revelations, former NZ cricketer Ian O'Brien weighs up the Cricket World Cup as the tournament enters its final week, and Professor Tim Bale evaluates the election campaign in the UK. Plus – The Week in Parliament.
8:12 Insight International students - boom or bubble?
International student numbers are rising again and nearly 100,000 foreign students are expected to study in New Zealand this year. With annual spending approaching $3 billion a year, the students are good news for the economy.
But some warn there is trouble ahead because enrolments are growing too fast.
Radio New Zealand's education correspondent, John Gerritsen, investigates for Insight what is driving the growth, the risks it poses, and the blurring lines between education and immigration.
Produced by Philippa Tolley.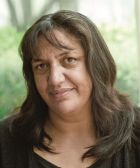 8:40 Melissa Williams – Migration Myths
Historian Dr Melissa Matutina Williams has busted some myths about the urban drift of Maori, cultural dislocation and social problems in her new book, Panguru and the City: Kainga Tahi, Kainga Rua. Documenting the experience of her own people moving from an area of the Hokianga to Auckland, she found organised, supportive migration among a group searching for a better life for themselves and their children.
9:06 Mediawatch
Mediawatch this weekend looks at the coverage of Cyclone Pam, and the media storm that drove two reality TV stars out of their jobs this week. Also: One reporter takes a stand against state-sponsored spin; and politics by numbers in front of the cameras. 
Produced and presented by Colin Peacock and Jeremy Rose.
9:40 Mihaela Noroc - The Atlas of Beauty
Beauty is everywhere. 29-year-old Romanian photographer Mihaela Noroc sought to capture that when she quit her job and started travelling the world two years ago. Mihaela tells Wallace about The Atlas of Beauty, her project about our planet's diversity shown through portraits of women. She travelled to 37 countries snapping portraits of women surrounded by their cultures in locations from Western Europe to African Tribes, Rio de Janeiro, China or New Zealand.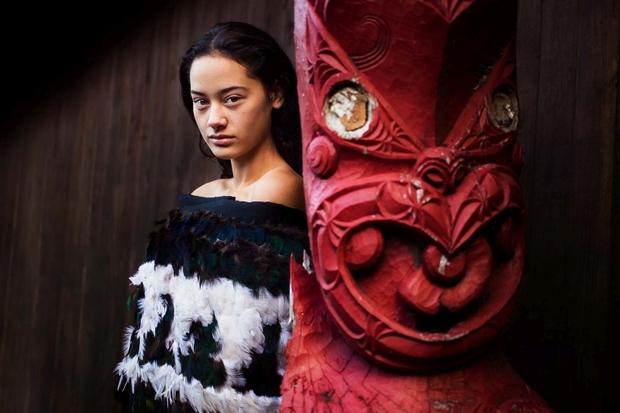 Photograph by Mihaela Noroc.
10:06 An Hour on Drugs
Wallace Chapman devotes an hour to the subject of drugs: The war on drugs, and the laws on drugs.
First up – Journalist Johann Hari has just released a book called Chasing the Scream, which is an epic, three-year, 30,000-mile journey into the war on drugs. Hari questions the idea of addiction and challenges our thinking around the subject of drugs. He joins us at 10.06am.
And following this, Wallace speaks to Beau Kilmer – a senior policy researcher at RAND Corporation in the US. Kilmer discusses the realities of legalising cannabis, the consequences of reforming drug laws – and asks if it's really necessary.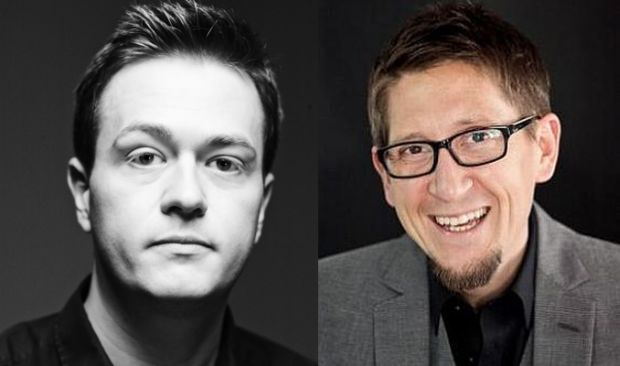 Johann Hari and Beau Kilmer
11:05 Dav Pilkey – Captain Underpants
Kids love Captain Underpants and here's how author Dav Pilkey tells the story of how he came about: "I was sitting in my 2nd grade classroom when my teacher used the word "underwear". Everyone around me started to laugh. My teacher got very angry and shouted, "UNDERWEAR IS NOT FUNNY!" We all laughed even harder. So I took out a piece of paper and drew a picture of a superhero with a red cape and underwear, and I named him Captain Underpants. He was a big hit with everybody in my classroom—except for my teacher, of course." Pilkey is heading to NZ for the Auckland Writers Festival and he joins Wallace to talk about turbo toilets, Ook and Gluk, George and Harold … and being banned.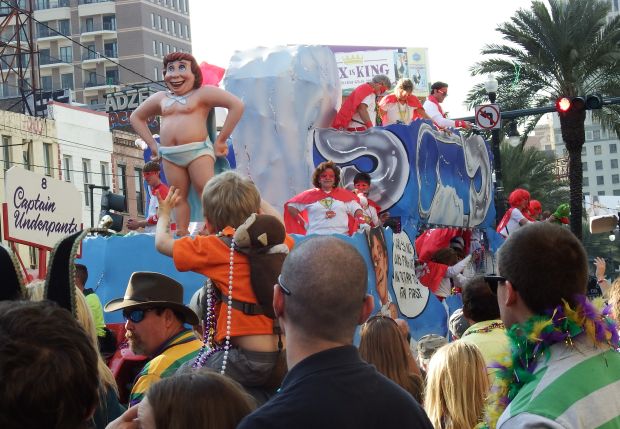 Captain Underpants float in the Superheroes parade at Mardi Gras, New Orleans, 2015. Photo credit: Clare Gleeson
11:30 Ed Byrne – Nerdy Guy
Ed Byrne is, his own words, "a stand-up comedian, actor, writer and nerd".  He's also a very successful comic who you may have seen on his many appearances on TV's The Graham Norton Show. He joins Wallace to talk about life, comedy, and bush-walking.
Ed Byrne is coming to New Zealand for the International Comedy Festival
---
Sunday Morning is produced by Christine Cessford, Zara Potts, Jeremy Rose, and Lise Charge
Music: Zen Yates-Fill
Research: Clare Gleeson
Wellington operator: Marc Chesterman
Auckland operator: Andre Upston
---
Music played in this show
Artist: Fanfare Ciocarlia
Song: C'est La Vie
Composer:Adrian Raso
Album: Devil's Tale
Label: ASPHALT
Broadcast Time: 9:40
Artist: Tony Joe White
Song: I've Got a Thing About You Baby
Composer: White
Album: The Train I'm On
Label: WARNER
Broadcast Time: 9:55
Artist:Billie Holiday
Song: Strange Fruit
Composer: Lewis Allan
Album: The Billie Holiday Songbook
Label: VERVE
Broadcast Time: 10:55
Artist: Josh Katz
Song: Hooray for Captain Underpants
Composer: Josh Katz
Album: Extra-Crunchy CD O'Fun
Broadcast Time: 11:05
Artist: SJD
Song: Little Pieces
Composer: Donnelly
Album: Little Pieces
Label: ROUNDTRIPMARS
Broadcast Time:11:25
Artist: TrinityRoots
Song: Musings of a Cloud
Composer: TrinityRoots
Album: Citizen
Label: TRINITYROOTS
Broadcast Time: 11:55