Sunday Morning for Sunday 29 June 2014
7:08 News and current affairs
Government Minister Steven Joyce on National's election campaign strategy, political editor Brent Edwards covering this weekend's National Party conference, Johnny Blades with an update on political turmoil in PNG, Tim Williams on regenerating London's East End and the lessons for South Auckland, David Luddy from Wimbledon.
8:12 Insight Japan's Post Earthquake Progress
More than three years after a massive tremor struck off the coast of Japan, the rubble has been cleared and the infrastructure largely restored. The magnitude 9 quake, that hit less than three weeks after the Christchurch shake that killed 185 people and caused major damage, triggered towering tsunami waves on Japan's north-eastern coastline. Close to 19,000 people died and tens of thousands of homes were totally destroyed. Despite the progress in the last few years, nearly 300,000 people across the Tohoku region are still living in temporary housing.  Former Radio NZ journalist Cushla Norman visits Minamisanriku, one of the towns hardest hit by the tsunami, to find out how its rebuild is progressing and how the people are coping.
Produced by Philippa Tolley.
8:40 Iain Forsyth and Jane Pollard – 20,000 Days on Earth
20,000 Days on Earth is an inventive celebration of creativity featuring the musician and cultural icon Nick Cave. The film mixes drama and reality by weaving the journey of a fictional day in the life of the rock star, with an intimate portrayal of his artistic process. Wallace talks to the directors, visual artists Iain Forsyth and Jane Pollard, who have worked extensively with Nick Cave on a number of projects over the past seven years.
20,000 Days on Earth is screening at the NZ International Film Festival.

9:06 Mediawatch
Mediawatch looks at a new TV channel that's literally 'radio with pictures', news coverage of Labour's so-called "donation nightmare" and John Key's visit to the US. Also this week: Overcooked Sunday paper stories and how it's not always 'never wrong for long' on the internet.
Produced and presented by Colin Peacock and Jeremy Rose.
9:40 Wayne Brittenden's Counterpoint
With the catastrophic gains of the Jihadist ISIS in Iraq's sectarian conflict, Wayne looks at the forces at play, and some little-known history. Wallace follows up with Kevin Martin, executive director of the US organisation Peace Action.
10:06 Tara Moss – The Fictional Woman
She's possibly the only author who's ever had to take a lie detector test to prove the authenticity of her books – but Tara Moss just takes it in her stride. The former model has written nine crime novels and has even earned her own private investigator credentials. Her latest book is called The Fictional Woman and it looks at her own life as well as taking a close-up look at the sexism women still face in their everyday lives. Tara Moss talks to us about her own experience with dealing with misogyny and about her work championing the rights for women and children.
10:35 Gaylene Preston – Hope and Wire
Gaylene Preston joins Wallace this Sunday Morning to talk about her latest television series – Hope and Wire – a drama series set in the midst of Christchurch post-earthquakes. Gaylene Preston is a writer, producer, and director. Her work reveals her commitment to telling New Zealand stories and includes feature films – Home by Christmas, Perfect Strangers, War Stories Our Mothers Never Told Us, Ruby and Rata and television series Bread and Roses, and Earthquake, a documentary for TV3 on the devastating 1931 Hawke's Bay earthquakes. The New Zealand Arts Foundation made her the first Filmmaker Laureate in 2001 and she is also a member of the NZ Order of Merit.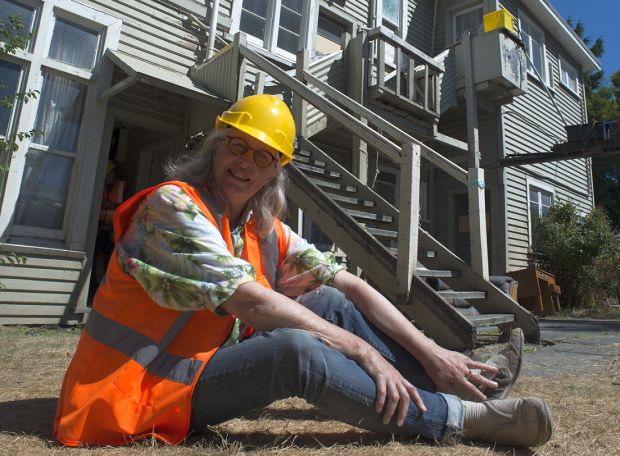 11:05 Brazil in Focus
In the latest of our occasional Countries in Focus series we take a look at Brazil. Brazil's youngest ever published author, Diego Albuquerque, and his Kiwi publisher and translator, Peter Dowling, speak to us about his book Snowy the Doganaut and the state of Brazilian children's literature; Brazilian ambassador Eduardo Gradilone recalls being a student activist in the campaign to end the military dictatorship which governed Brazil from 1964 to1985, explains why he's studying te reo Maori, and speaks about some of his favourite places in the world's fifth largest country; and Brazilian musician Alda Rezende shares some of her favourite music.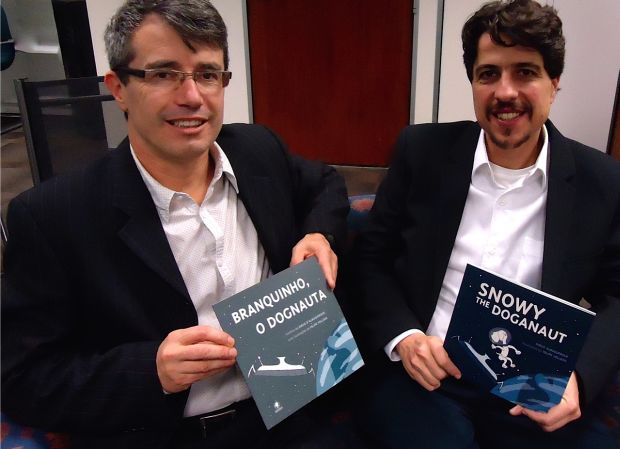 Translator and publisher Peter Dowling with Diego Albuquerque, Brazil's youngest ever published author with his book Snowy the Doganaut written when he was just eight years old. 
Music played in this show
Artist: Nick Cave & The Bad Seeds
Song: Push the Sky Away
Composer: Nick Cave
Album: Push the Sky
Label: Badseed
Broadcast Time: 8:40
Artist: The Meadowlarks
Song: I've Got You
EP: Three Six Five
Broadcast Time: 9:40
Artist: Kraftwerk
Song:The Model
Composer: Hutter/Bartos
Album: The Man Machine
Label: EMI
Broadcast Time: 10:35
Artist: Eastern
Song: State Houses by the River
Composer: Adam McGrath
Album: Hope and Wire
Label: Rough Peel
Broadcast Time: 10:55
Artist: Orchestre de Paris & Paul Capolongo
Song: Bachianas Brasileiras No. 2
Album: Villa-Lobos: Bachianas Brasileiras
Broadcast Time: 11:35
Artist: Benedito Lacerda & Pixinguinha
Song: Andre de Sapato Novo
Album: Benedito Lacerda & Pixinguinha
Broadcast Time: 11:45
Artist: Chico Buarque
Song: Feijoada Completa
Album:O Sambista
Broadcast Time: 11:50
Artist: Alda Rezende
Song: Doa Doa
Composer: Rezende
Album: OE: Brazil
Label: Loop
Broadcast Time: 11:55