Sunday Morning for Sunday 13 April 2014
7:06 News and current affairs
8:12 Insight: New Zealand's Love Affair with China
New Zealand has set ambitious new targets for its trade relationship with China. But is this achievable given the fallout from last year's Fonterra botulism scare? The dairy cooperative is adamant there's been no fallout, but other dairy companies and commentators say it has dented New Zealand's reputation as a safe food provider. Demelza Leslie travelled to China with the Prime Minister and investigates if the new trade targets could become a reality.
Produced by Philippa Tolley.
8:40 Crime in South Africa
The Telegraph's South African correspondent Aislinn Laing and South African Institute for Security Studies researcher Dr Johan Burger on what the Oscar Pistorius murder trial reveals about fear of crime.
9:06 Mediawatch
Mediawatch looks at the press pack reporting the royal tour, and why our TV channels are now putting more programmes online instead of on the air.  Also: Mixed messages on judging by appearances; and what do we learn when the media visit politicians at home in search of their human side? 
Produced and presented by Colin Peacock and Jeremy Rose.
9:40 Wayne Brittenden's Counterpoint
With whistleblowers Julian Assange and Edward Snowden back in the news in recent days, Wayne takes a fresh look at their revelations of state surveillance, and describes the little-known private surveillance world that most civil libertarians have overlooked. Wallace follows up with Pam Dixon, Executive Director of the World Privacy Forum.  
10:06 Fashion Victims
Almost a year since more than 1100 people were killed in the Rana Plaza clothes factory collapse, one of our top designers Francis Hooper explores where Kiwi designed clothes are made, and Pulitzer prize-winning US journalist Ken Weiss (right) contemplates the stark choices facing women factory workers in Bangladesh.
10:40 Reg Mombassa
Mental as Anything's and Dog Trumpet's Reg Mombassa (aka Chris O'Doherty) is holed up on Waiheke this week playing his 2nd gig in NZ in 20 years, and showcasing his art.  He's taking part in the 2014 Artists in Residence Programme at the Waiheke Community Art Gallery, opening on Thursday.
Gallery: Waiheke Community Art Gallery's 2014 Artists in Residence Programme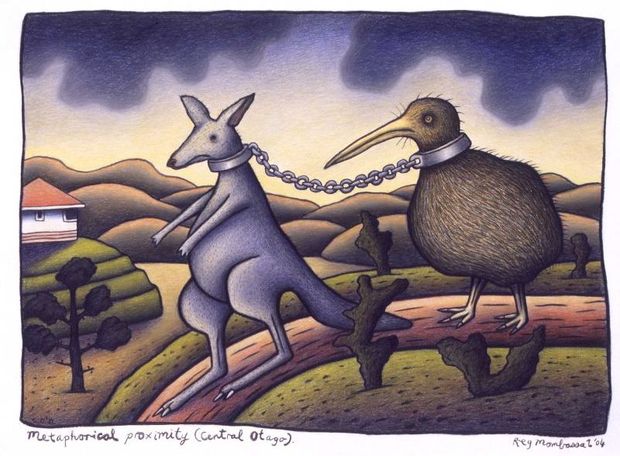 Metaphorical Proximity by Reg Mombassa.
11:05 Down the List
Satire.
Down the List is written by Dave Armstrong and produced by Adam Macaulay and Duncan Smith from the RNZ Drama Department.
11:12 Fiona Fraser – Royal Tour
A royal tour is about as big as it gets in the world of women's magazines. For months New Zealand Woman's Weekly editor Fiona Fraser has had this tour marked on her calendar – not just because she appreciates a good frock., but because it's no secret that the royals, particularly young royals, have the ability to sell a lot of magazines. She tells Wallace why the royals are still so popular, and just what goes on behind the scenes at a magazine dedicated to following them.
11:25 Helen Berry – Making Ourselves Extinct
Professor Helen Berry, associate dean at the faculty of health at the University of Canberra, is one of three Australian academics who contributed to the health chapter of the recent IPCC report. She has warned that the Earth is warming so rapidly that unless humans can arrest the trend, we risk becoming extinct as a species.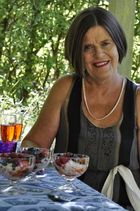 11:40 Rosie Belton – Wild Cook
Former drama teacher and casting director Rosie Belton (right) has a motto she lives by: "When all else fails – cook!" Her new book Wild Blackberries explores her life through food. It's about how food enhances the feeling of celebration, and comforts in times of sadness. Having lived through nearly four years of earthquakes in her hometown of Christchurch, Rosie tells Wallace Chapman about why the kitchen and dining table provided so much solace in such unstable times.
Music played in this show
Artist: John Wizards
Song: Lusaka By Night
Composer: Nzaramba
Album:
Label: Planet Mu Records
Artist: Ladi6
Song: Shine On
Composer: Tamati Park
Album: Automatic
Label: Universal
Artist: Mental as Anything
Song: If you leave me can I come too?
Composer:  Plaza
Album: Mental as nything Best Of
Label: Fetival
Artist: Dog Trumpet
Song: Anitsocial Tendancies
Composer: O'Doherty
Album: The Life and Times of Reg Mombassa: Dog Trumpet Sampler
Label: Mombassa