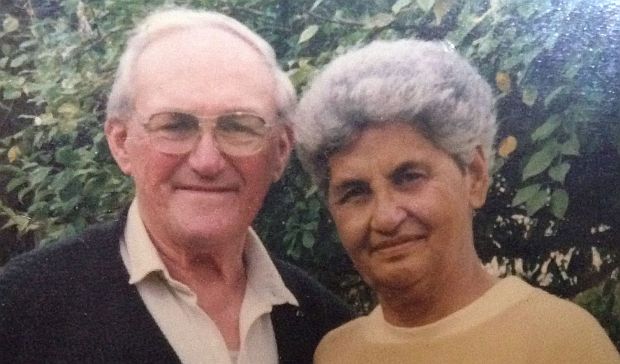 Brian Baker and his wife Joyce
"Brian Baker was a man of astonishing foresight to collect the full spectrum of radio's history in New Zealand."
– Mark Thomson vintage radio enthusiast.
Brian Baker collected his first vintage radio when he just fifteen years old. His father threw it away, because he couldn't stand the music. But when Brian died last year at the age of eighty-eight his huge historic home in Russell was stuffed with countless old wirelesses. Not to mention the stacks of radio magazines that seemed to touch the twelve foot high ceilings and innumerable pieces of old radio testing equipment.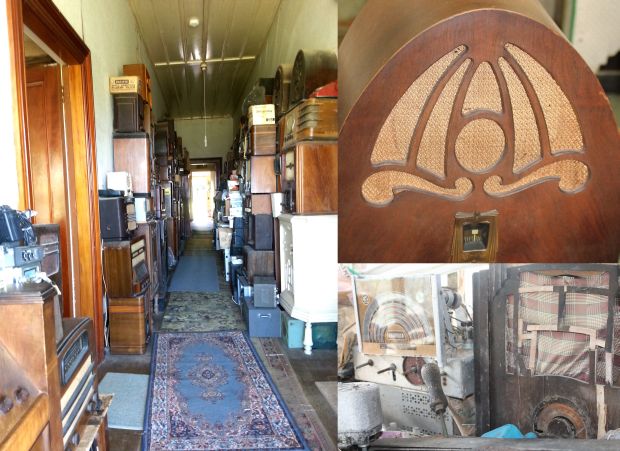 Left: The hallway stuffed with old radios. Top right: detail of a "cathedral' style radio. Bottom right: unsalvageable radios in Brian baker's shed
Now over five hundred of the most rare and valuable of his radio treasures have been curated by vintage radio enthusiasts and will be auctioned in Auckland soon.
These days if you visit "The Grange" with its imposing  white verandahs, red roof and white picket fence you'll find much of Mr. Baker's collection has gone: to the dump. Family members have walked through rooms they've barely been able to peer into for years.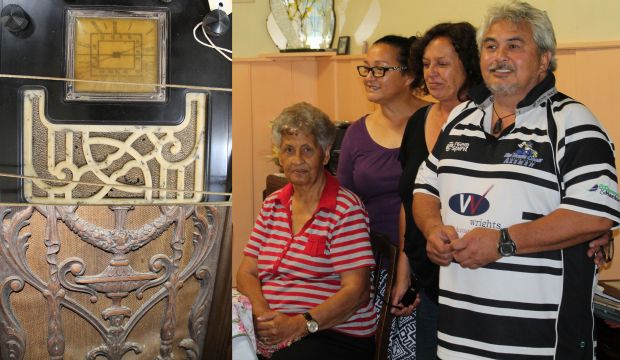 Top and bottom left: Detailed panels of two radios to be auctioned. Right: (left to right) Joyce Baker with daughters Marsha, Donna and son Charlie by the dining table-cum-work bench.
Brian Baker's daughter Marsha says even the family's big scrub-top kauri dining table was slowly invaded by her father as a work bench, until mother Joyce gave him the hard word. Marsha says her father loved music, particularly Jazz and Dixieland. He played the bugle, trumpet, sax, drums, the piano and he sang. He played in a local group, The Geriatrics.
"Brian Baker was a man of astonishing foresight to collect the full spectrum of radio's history in New Zealand". Mark Thomson, vintage radio enthusiast and curator.
Local Nigel Stanton spent many summers playing with the Baker kids and maintained a friendship with Brian Baker into adulthood. He'd been telling Mark Thomson about the amazing collection for years. "But I didn't tell him who it belonged to, or exactly where it was", he smiles.
Charlie Baker remembers, "When these vintage radio enthusiasts arrived here and started looking through dad's radios that were stacked in the hallway there were shouts of glee. It was just like they'd found a long lost winning lotto ticket."
And the first treasure Mark found? A 1929 Stewart Warner Radio phonograph built in the United States. "There were lots of 'wows' after that".
"These guys have really brought life to the radios" says Marsha. "Dad never really discussed what he collected, with his family".
Each family member has got to keep a particular favourite radio. Charlie Baker's chosen a New Zealand-made "Sheffield", complete with kiwi mascot. Brian's widow Joyce has fallen in love with a little American made Kadette, built for export and complete with gold leaf inlays of King George V in profile. She'd never seen it before it was unearthed recently at her house. Mark Thomson knows what he'd like, but doubts he will be able to afford it. It's a 1921 American-made radio.The first licensed radio station began broadcasting in New Zealand in 1922.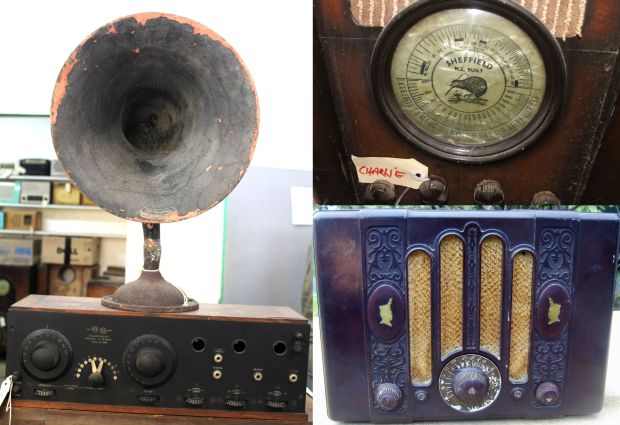 Left: Mark Thomson's choice – a 1921 American-made radio. Top right: Charlie's choice. Bottom right: Joyce's keepsake, a KADETTE radio from 1933.