Malcolm Beattie and a brand new rescue buggy.
"Your bones will tell you when it's time to stop. Fortunately my bones are still in great shape!" - 70-year old Malcolm Beattie.
David Steemson meets Malcolm Beattie at the Sunset Beach Lifeguard club to find out about life as a life guard.

Malcolm Beattie's been rescuing swimmers on Port Waikato's Sunset Beach for fifty summers. The seventy year old has just been given his fifty year badge at Surf Life Saving New Zealand's Awards for Excellence.
For thirty years Malcolm has been President of the Sunset Beach Lifeguard Service and back in 1971 he and mate Bob Harvey got the first helicopter rescue service going.
"I remember the first rescue I did from a chopper. There were seven surfers swept away by the current, very, very, rugged surf. Two of us had to jump from the helicopter and it was pretty hairy trying to hook them up to the winch, one by one."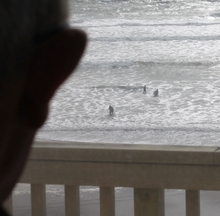 Malcolm reckons there have been bumper crowds at Sunset beach this summer. More rescues as a result too.
The Friday I visit late in January there is a small crowd of mostly youngsters in the water, but no lifeguards on duty. Malcolm's volunteers only operate on weekends. We go for a drive in the club's new John Deere all-terrain buggy, but we have stop and wade into the shallows for Malcolm to shout warnings about a dangerous rip.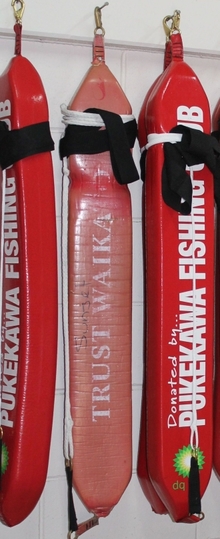 The Sunset lifeguards rescue up to forty people each summer. But they also do a lot of preventative work, warning folk to get out "before they become another statistic".
Malcolm points out the club's beach lookout tower that was rebuilt five years ago after the old one got washed away.
"But we had big 4.5 metre tides over winter and there's been more serious erosion. Now the new tower's only metres  from the new cliff face…. I think we might be in trouble again" he grimaces.
Malcolm grew up in Pukekohe, came surfing here, and in 1964 joined the then tiny club.
"There were no baches, just our surf club tin shed, sited about fifteen metres in front of our  present lookout. That spot is well under the water now."
Malcolm still carries out weekend rescue duties as part of the Master's patrol, and each year he goes through rigorous tests, to retain his badge. If he keeps passing, he's not planning to give up any time yet.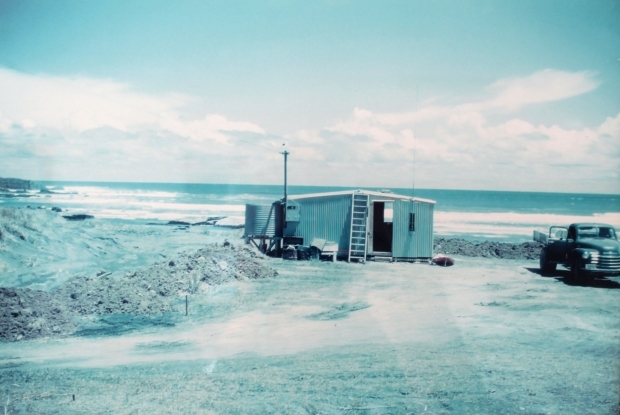 Port Waikato Surf Life Saving Patrol's first club house in 1959.