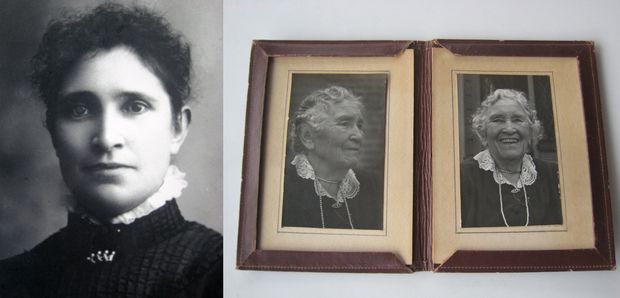 Orpheus Beaumont in her late 20s about 1888 and in her 70s or 80s in the late 1920s.
"What I would be thrilled about is that children in New Zealand, if they knew the story of Orpheus Beaumont and the enormous loss of life that brought about improvements to lifejackets, if they could get on a yacht or dinghy and look at the humble lifejacket sitting there and say 'I'm going to put it on', that's what bringing up these stories is all about."
"To be someone that designed something that was life changing throughout the world is fabulous… but sixty years ago my grandmother died… one would have loved to have known more," says Gerald Fitzgerald slightly ruefully.
But thanks to family research being undertaken by Gerald Fitzgerald's daughter Caroline, the story of Orpheus Beaumont, a New Zealander whose design for a Kapok lifejacket in the early 1900s saved thousands of lives, is finally coming to light.
Born in Jersey, Orpheus was named after New Zealand's worst maritime disaster, the sinking of HMS Orpheus on the Manukau Harbour Bar in 1863. Her brother, Henry Newman, was on board the ship and was presumed drowned. However, he survived and Orpheus' mother rejoicing at the news, named her daughter after the ship.
As a young girl Orpheus suffered from drowning fits. "My great-grandmother believed she was possessed by the souls of drowned people and that the sea wanted to take her," says Caroline Fitzgerald. The story came from a Victorian belief that pregnant women would imprint their thoughts and emotions on the soul of their unborn child. Her mother believed she had done this while mistakenly grieving for Henry. After moving to Dunedin and marrying ship's captain Norman Beaumont, two events in 1912 would cement Orpheus' determination "to try and beat the sea," says Caroline. Her other brother William drowned off the Otago coast and in April of that same year more than 1,500 people lost their lives when the Titanic sank.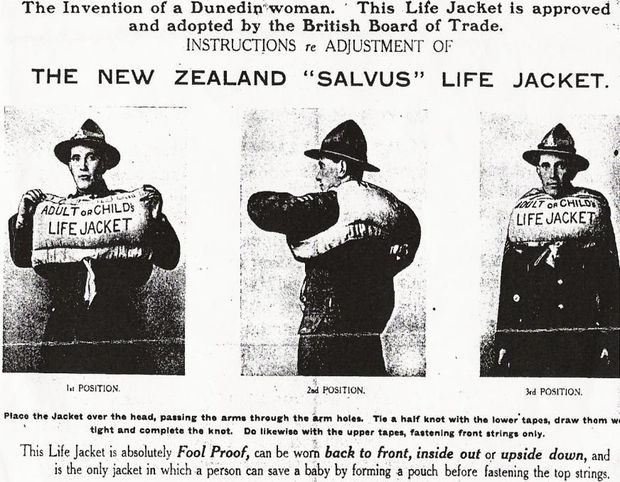 On board ship instructions also used on Cook Strait ferries including the Wahine which sank in Wellington harbour in 1968 with a loss of 51 lives. Without the Salvus lifejack the tragedy would have been far worse.
In the wake of the Titanic disaster, the British Board of Trade started a competition across the Empire to design a better lifejacket than the cork-based ones then in use. Six years later, Orpheus answered the call. She designed a bolero style lifejacket filled with kapok that could float 15 times its weight.  On the last day of World War One the design was accepted by the British authorities and they issued an an order for 30,000 jackets. The design went on to become a worldwide standard for many years.

The Salvus Kapok Lifejacket which would have been placed around both mother and child.
Caroline and her father tell Lisa Thompson the tale of one New Zealand woman's struggle against the sea and how her determination saved countless lives.
Video: The Drowning Country
The documentary Caroline Fitzgerald made for her Masters in Science Communication at Otago University.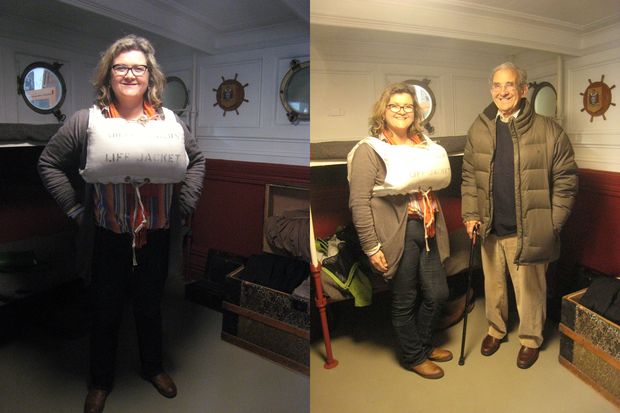 Caroline with Salvus Kapok Lifejacket and her father Gerald, inside the cabin of Orpheus' husband Captain Norman Beaumont situated inside the Regional Maritime Museum at Port Chalmers.