Arise New Zealand's sons and leave unturned the sod to serve the flaming guns for Zealandia and God.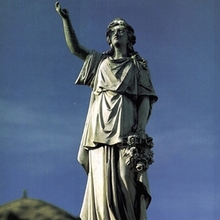 She's a symbol of patriotism but only two statues to Zealandia were ever erected - both in Otago, and both are Boer War memorials. (Image courtesy of Kennedy Warne)
Our patriotic versifiers of the late 19th and early 20th century ranged far and wide to find subjects to extoll. The Westland poet George Baddley picked on premier Richard John Seddon's attendance at Queen Victoria's Jubilee in 1897, a trip which also took Seddon to Rome, giving birth to Baddley's immortal lines -
He knelt before the throne
and saw the Pope of Rome.'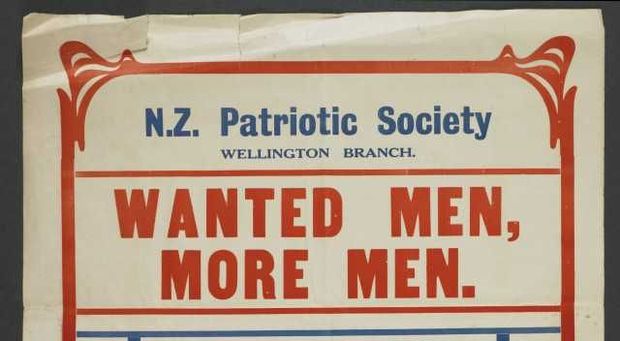 A 1915 recruitment appeal. The Western Front was thirsty for soldiers. (Courtesy Te Ara)
The great and the good were, of course, a natural target for patriotic pens. The departure of the popular Governor General Lord Jellicoe brought about paeans of patriotic praise and the coronation of Edward the 7th caused Chatham Islands poet Robert Stone Florence to exclaim -
'This is a time of joy
Ill feelings we'll destroy.'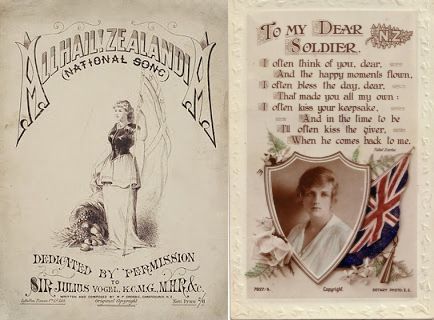 'All Hail! Zealandia' pre-dated 'God Defend New Zealand. A patriotic postcard circa World War 1 (Courtesy Te Ara)
William Golder was still on his way to New Zealand when he wrote a poem in praise of Wakefield's New Settler Scheme of the 1840s, which, sadly, did not live up to the poems rather extravagant expectations. Patriotic poetry is long out of fashion, verses in praise of today's All Blacks, for example, are few on the ground but a different literary climate existed when Francis Cloke was stirred by the feats of the 1924 touring All Blacks -'
Swift as the deer upon the field, giants in their attacks
No wonder all have had to yield to our matchless All Blacks.'
Audio
Alwyn Owen explores the lighter side of New Zealand's poetry of patriotism. 'For Zealandia and God' is narrated by Bill Toft (first broadcast in January 1973).