Sub Antarctic Isles
Paul Charman captures the sound of places seldom trod and talks to passengers with a life-long passion for birds and an enduring love of plants.

Each summer fewer than a thousand nature tourists get… Read more Audio
Paul Charman's account of his sub Antarctic adventure:
"During most summers, fewer than a thousand nature tourists get to visit New Zealand's sub Antarctic islands.
Costs are high and tourist numbers are deliberately kept low to reduce environmental impact.

Journalist Paul Charman on Campbell Island
Gallery: Sub Antarctic isles
These one-to-two-week voyages stop far short of the Ross Sea – hence there's no threat from the kind of pack ice which beset MV Akademik Shokalskiy over Christmas and New Year.
My Heritage Expeditions voyage seemed a little like "sub Antarctic exploration lite", as it took place in unusually fine and settled weather.
The sun was shining over Campbell and Auckland Island Groups and while at the Snares an unusual lack of ocean swell provided a smooth penguin-watching Zodiac voyage.
Despite a few queasy times during the 36-hour haul from Bluff to Campbell Island, overall our voyage in the Southern Ocean was remarkably comfortable.
And we didn't so much as get our feet wet while clambering on and off the Zodiacs during beach landings.
Expedition leader Nathan Russ led a similar seven-day voyage the week previous to mine, during which landing parties groped their way through mist, rain and sleet.
Heritage Expeditions leases a 2140-tonne ice-breaker, the Spirit of Enderby, which carries about 50 passengers, and the usual company runs about two or three voyages to sub Antarctic islands over summer.
Costs are relatively high. Our ship's 1560 horsepower engines burned $36,000 of marine diesel on the 2000km voyage and each passenger paid about $400 in landing fees to the Department of Conservation, which administers the islands. But despite paying more than for a typical tourist cruise my shipmates were fizzing with enthusiasm when they arrived back at Bluff.
Yes, there were tough bits. Some nights I shunned the dinner table and stayed holed up in my rocking bunk. Ashore, we pushed through oppressive, misty rata forest to reach that ill-starred settlement of Hardwicke and the ruins of World War II coast watcher huts.
But both Campbell Island and Enderby (in the Auckland group) teemed with birds and seals (all of whom seemed as keen to enjoy the fine weather as we were).
Seasonal mega-herbs bloomed on these islands, making vibrant splashes of yellow, purple and red - in my imagination transforming these lonely places into romantic extra-terrestrial worlds.
Our Russian crew, who provided daily three-course meals, were professional and seemed caring; Zodiac drivers included old hands possessing long experience in the sub Antarctic. They kept us safe and well entertained us with their fascinating stories.
Yes, there were some tough bits, but I expect to be going over wonderful memories my brief time in the sub Antarctic for many years to come."

Trekking on Enderby Island. (Courtesy Paul Charman) 
It's a two thousand kilometre voyage through The Roaring Forties south of New Zealand to Campbell Island, the Auckland islands and on to the Snares.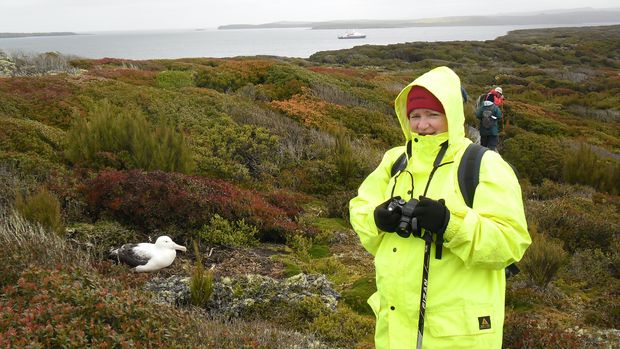 Heather Richardson with unperturbed albatross. (Courtesy Paul Charman)
On these islands live plants and birds that have been severely tested by the arrival of humans and their animals for two hundred years. But for  the last fifteen years they've been protected as UNESCO World Heritage Sites and the unique mega-herbs and bird-life are recovering, if only slowly.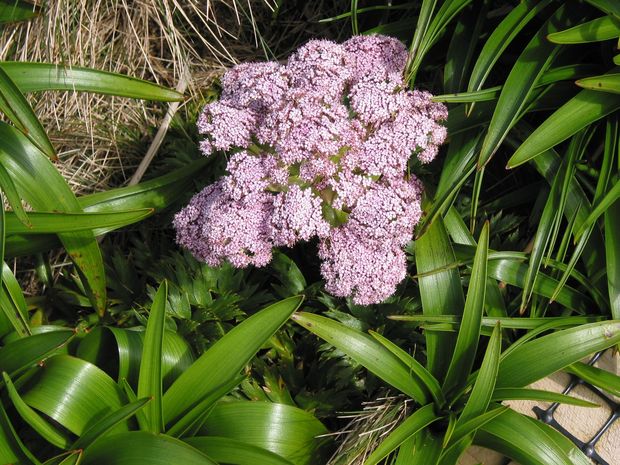 Mega-herbs on Campbell Island. (Courtesy Paul Charman)