A Cottage in Time
Nairn St's Colonial Cottage, built in 1858 by William Wallis, is only a stone's throw from the central city, yet the cottage, along with its herbal garden and its heritage chickens, retain the flavour… Read more Audio
William Wallis and wife Catherine in front of their cottage with unidentified woman. (Courtesy Museums Wellington)
William Wallis and his wife Catherine emigrated to Wellington from England in 1857 and built their cottage in the late-Georgian style in 1858. William was a carpenter–builder who had worked on hospitals during the Crimean war. His skills were in high demand in the expanding township and by the 1880s he was a man of considerable means.
Catherine Wallis bore 10 children and the family moved to Royston house, built by William on the same 'town acre' as the cottage and named after the village he hailed from near London. Royston house was demolished in the late 1970s but the cottage survived and opened as a museum in 1980.
Nairn St's Colonial Cottage is only a stone's throw from the central city, yet the cottage, its garden displaying a profusion of plants and herbs, not to mention heritage chickens, all help to retain the flavor of early Wellington, even though it's now dwarfed and hemmed in by modern constructions.
Daughter Amelia's wedding.Catherine Wallis has small girl in front of her and William is behind slightly to right. (Courtesy Museums Wellington)
Spectrum's Jack Perkins is guided around Colonial Cottage by researchers Elizabeth Plumridge and Paul Thompson. They are aided by a time line display which relates the history of the cottage and the Wallis family to events in Wellington and the wider world. For information about activities and tours of Colonial Cottage go to http://www.museumswellington.org.nz/colonial-cottage-museum/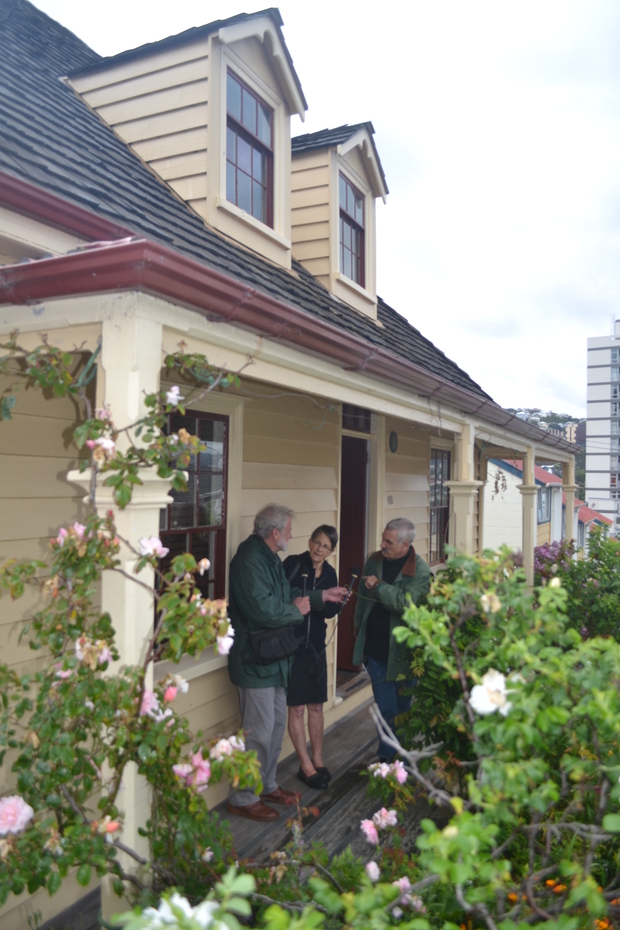 (Courtesy Museums Wellington)