The Royal Radio Roadshow
On December 23, 1953, Queen Elizabeth II and the Duke of Edinburgh began a five week tour of New Zealand which created unprecedented demonstrations of patriotism. Drawing on RNZ Archives and… Read more Audio
The visit of the young Queen and her dashing husband, Prince Philip, to New Zealand in the summer of 1953-54 is a never-to-be forgotten event. In towns big and small throughout the country loyalists turned out in their posh clothes, armed with Union Jacks to wave and perhaps a periscope to catch what was often only a brief glimpse of the monarch crowned only months before.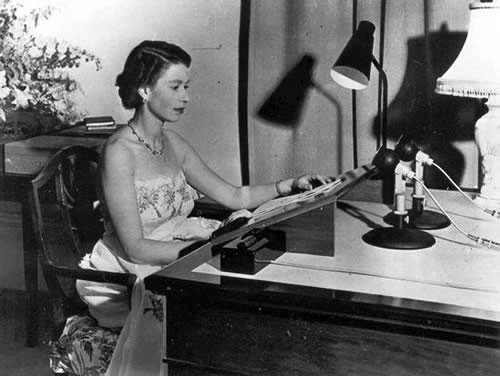 New Zealand was centre-stage on 25 December 1953 when Queen Elizabeth broadcast her Christmas message to the Empire-Commonwealth from Government House, Auckland.(Courtesy Archives New Zealand)
Radio commentators described in detail her progress from the far north to Bluff and People went to extraordinary lengths to show their devotion. Sheep were dyed red, white and blue; buildings lining the Royal Tour rout were given face lifts and adorned with bunting; gardens displayed patterns of red, white and blue flowers. On the summit of Mount Egmont (now Taranaki) a BBC commentator cut a large E in the ice and gave three rousing cheers for Queen Elizabeth the second.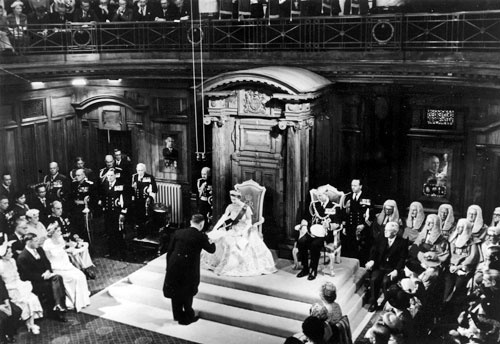 Prime Minister Sidney Holland hands the Queen the vellum copy of her Speech from the Throne, 12 January 1954. (Courtesy Archives New Zealand)
Drawing on RNZ Archives and recollections of broadcasters and others involved, Jack Perkins looks back on the old-style Royal Roadshow. The programme was first broadcast in December 1989 and marks 60 years since the 1953-54 Royal Tour began.
 A huge crown dwarfs the royal couple as they walk down the steps in front of Nelson Cathedral, 17 January 1954. (Courtesy Archives New Zealand)