Flora Thirkettle, Fisherwoman
When young widow Flora Thirkettle went fishing on the Kaipara Harbour to feed her seven children, the wives told their fishermen husbands not to talk to her. She says it took years from the thaw to… Read more Audio
When young widow Flora Thirkettle went fishing on the Kaipara Harbour to feed her seven children, wives told their fishermen husbands not to talk to her. Flora says it took years from the thaw to set in.
Flora Thirkettle and Olive
After husband George died suddenly, the resourceful Flora bought a house by the Kaipara River in Helensville, and a small Kauri fishing boat 'Olive' was included in the price. Every weekend and during school holidays she would load the children on board 'Olive' and go fishing….four hours on, two hours off, to sleep.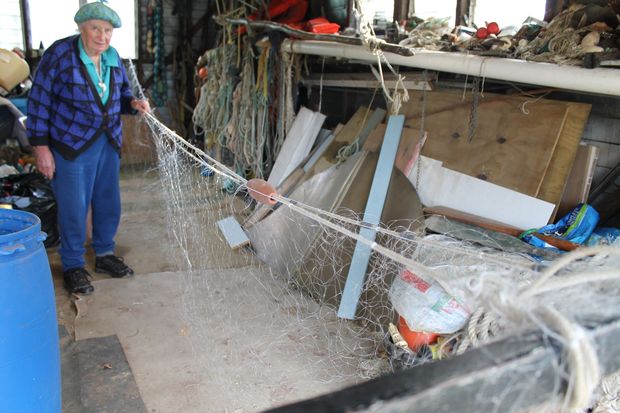 Newly made net
Fifty three years later Flora still lives in her little green house and 'Olive' floats nearby. She's given up fishing, but 85-year old Flora makes nets for the fishermen, and sells her homemade shark liver oil to the locals. She also breeds Jack Russell terriers for the extra cash. For Spectrum David Steemson pays Flora a call.