Fly Me Up
It's art. Tiffany Singh uses rice and lentils in her work, she's dusted her bees-wax effigies with spice, and hung thousands of tiny bells and bamboo wind chimes in parks and art galleries. And for… Read more Audio
It's art. Tiffany Singh uses rice and lentils in her work, she's dusted her bees-wax effigies with spice, and hung thousands of tiny bells and bamboo wind chimes in parks and art galleries.
Ideas going down on paper AND being interviewed by David.
For this year's Auckland Arts festival she's got help from three thousand local school children to paint their hopes or dreams on rainbow coloured, Tibetan-style prayer flags.
Proud of their handiwork at Glen Eden Primary School.
Last year, Tiffany visited schools throughout Auckland to inspire children with brain storming sessions before they worked on their flags. Many had dreams of fame or world peace, while others were able to express concern about drug use and domestic violence. Some didn't want their parents to see their art work.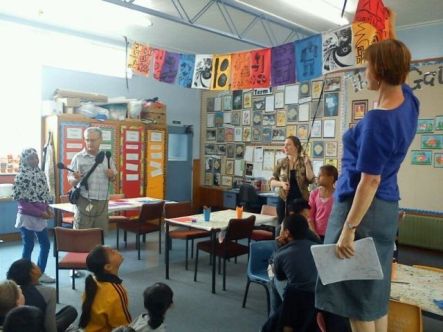 The finsihed work.
For Spectrum David Steemson watches Tiffany at work at Glen Eden Primary School and talks to the kids. The flags will fly over Aotea Square during the Arts Festival in March.