A Gift of Green
When Thomas and Mahrukh Stazyk purchased a disused dairy farm overlooking the Kaipara Harbour in 2003, they had a vision to establish a special retreat for people to relax and rejuvenate. However… Read more Audio
When Thomas and Mahrukh Stazyk purchased a disused dairy farm an hour north of Auckland, overlooking the Kaipara Harbour in 2003, they had a vision to establish a retreat for people from all walks of life to come together to share ideas, relax and rejuvenate. They named their property CUE Haven - a place for Cultivating Understanding and Enlightenment. And while a retreat is still part of the couple's master plan, they've slightly deviated along the way. Watching as more and more properties around them became subdivided for lifestyle blocks and other development, the Stazyk's decided their 59 hectares should be converted back to native forest.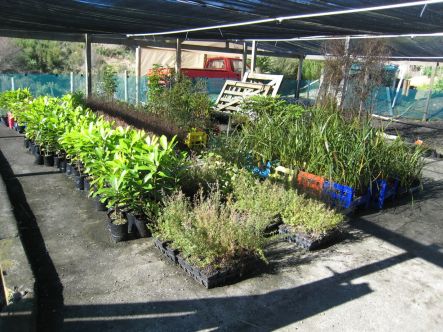 The nursery
 Auditors by profession, US-born Thomas and Indian-born Mahrukh had little knowledge of New Zealand natives when they first arrived here in 2001. But with the help of a local ecologist who put together a 15-year reforestation plan, the couple are now well on the way to re-vegetating the property. And they're enjoying it so much they've decided to speed up the process, setting a completion date of 2017 - with a little help from some friends along the way!
Spectrum's Lisa Thompson with CUE Haven's Thomas Stazyk.
Students, corporate and other environmental groups have now planted 48,000 trees. A walking track has also been completed, as have roads linking the top and bottom of the property and a disused milking shed turned into a nursery, where seedlings such as kanuka and kauri are raised. And memorial plantings to remember those who have passed away also take place at CUE Haven on a regular basis.  And when the project is finished, the couple plans to covenant the property with the QEII Trust to protect it into perpetuity for the community to enjoy.
Pupils having an outdoor water ecology lesson
Join Spectrum's Lisa Thompson and pupils from St Kentigern Primary school as they roll up their sleeves and help turn the Stazyk's dream into a reality.
Another planting day over