Running Wild in Fiordland
Fiordland kindergarten has launched a new programme which takes pupils out into the wide open spaces. Their midweek nature discovery day draws inspiration from the European Forest kindergarten… Read more Audio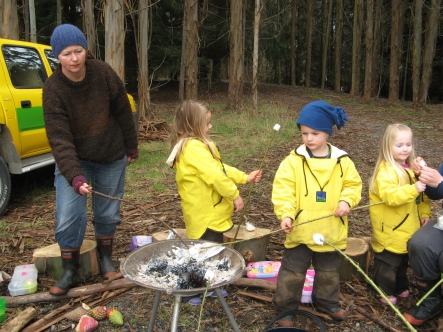 See photographs from an outdoor excursion with Fiordland Kindergarten.
On Wednesday mornings, children at the Fiordland Kindergarten swap plasticine, paint brushes and modeling clay for dirt, sticks and fresh air, and take to the wide open spaces. The programme takes its inspiration from the European Forest kindergarten movement.
For some children, delivered by their parents to Ivon Wilson Park on the outskirts of Te Anau, it can be a bit traumatic. There are a few sobs and tears, but head teacher Clare Maley-Shaw is not bothered. She knows that as soon as mother or father is out of sight, the child will be swept up by the group.
All brightly clad in yellow raincoats and waterproof leggings, the preschoolers know the few rules by heart. Not one has gone missing since the programme began over a year ago.
The children enjoy a range of activities from climbing trees and sliding down leafy slopes, to exploring for bugs and beetles and eating toasted marshmallows around the campfire. The philosophy, according to Clare, is one of minimum intervention, intended to foster independence and a healthy curiosity and respect for their natural surroundings.
By taking the children out into nature on a regular basis, not just walking through it but 'being in it', she aims to give children a lifelong passion for the natural environment.
Clare Maley-Shaw admits it all seems like commonsense, and yet Fiordland kindergarten is the pioneer of this outdoor programme in New Zealand, and is currently carrying out research on it's impact on both the children and the teachers.