Kwanzaa the African Shop
Kwanzaa the African Shop in downtown Wellington is overflowing with figurines, batik and all kinds of decorative goods from 15 African countries. But even more interesting are the Africans who gather… Read more Audio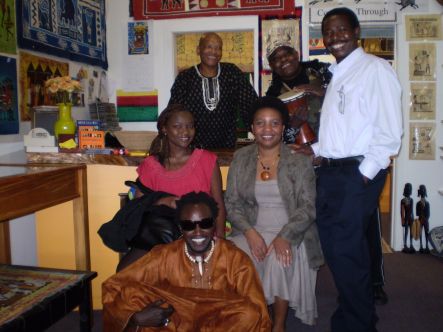 (From back left) Lewis Scott. Sam Manzanza. (middle row) Admire Barnes. Fungisai Foto. Felix Jaboon. (front) Barika Darboe.
Kwanzaa the African Shop in downtown Wellington is overflowing with figurines, batik and all kinds of decorative goods from 15 African countries. But as Spectrum's Jack Perkins discovered, even more interesting are the Africans who gather there.
Run by African-American Lewis Scott, Kwanzaa was once a venue for poetry readings and music but sheer numbers forced the gatherings of African ex-pats to larger premises.
Sam Manzanza, a musician from the Congo, taps out a rhythm on his drum to demonstrate how villagers communicate. Fungisai Foto and her brother Felix Jaboon talk about how they fled the political and economic problems of Zimbabwe. Barika Darboe from Gambia and Admire Barnes, a university student from Liberia, join the discussion and all agree that prejudice towards black people is not far below the surface with some in New Zealand.
But music is never far from the hearts and minds of Africans and it's not long before Sam is again tapping his drum and soon Kwanzaa the African Shop is filled with spontaneous song.