Fingers in the Fur
Deborah Nation joins canine massage therapist Kathleen Crisley as she tends to the needs of a couple of her favourite clients. Audio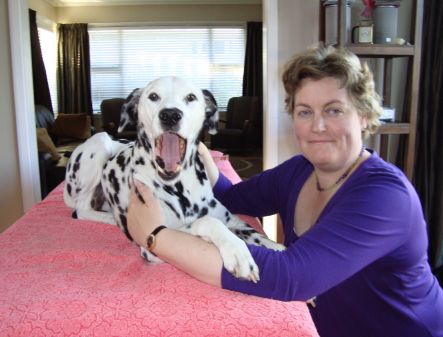 Oliver and Kathleen
Hiring a masseuse to attend to your dog may seem unusual but Kathleen Crisley's pet owners pay a high price to have their pooches pampered.
Kathleen's canine client Oliver greets her with excited barks and sniffs her doggy bag, knowing there are treats for after, then leaps onto the massage table. The dog groans ecstatically throughout the massage and chews a blanket to shreds for good measure.
Kathleen, who hails from the United States, went back to Colorado to train in canine therapeutic massage. The four day intensive course, culminating in an examination, was followed by a series of 6 week case studies back in Christchurch.
Older dogs with arthritis and young working dogs with muscular aches and pains are among her clients, or simply those whose owners feel they would enjoy the treat. It's clear that the massage is a bonding exercise between Kathleen, the dogs and their owners, and meanwhile her own English pointer, Daisy, has learnt to wait patiently for another rubdown.