Remembering Kingston
Childrens author Gavin Bishop returns to Kingston, the scene of his 1950's boyhood. Audio
Childrens' author and illustrator Gavin Bishop returns to the place of his 1950s boyhood.
Growing up in Kingston, beside Lake Wakatipu on a diet of girdle scones, marmite sandwiches and roast mutton,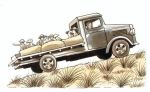 Gavin's memories are classic Kiwi fare, and the subject of a book recently published by Random House.
Spectrum joins Gavin as he walks the streets and rides the train with the local school children who come to launch Piano Rock- A 1950s Childhood.