Daring to Dream
Final audition weekend for young actors at the New Zealand Drama school. Audio
Daring to Dream
Toi Whakaari - NZ Drama School, is a place where emotions and energy can run high: students cart-wheel through the foyer, or practise monologues aloud when their final audition is looming.
One weekend each year, 30 to 40 potential students are recalled for a final audition. They've already passed the first round, where a panel, consisting of industry professionals and tutors, scour the country looking for talented young actors for their next intake.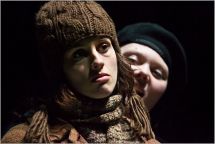 The recall weekend is an intensive 2 day workshop where these potential actors will be pushed to their limits physically, emotionally and mentally. For many it's an ongoing battle to maintain a profile in an industry where only 2 percent of pupils each year will make it as actors.
Toi Whakaari graduate Sonia Yee takes a journey back to the school on recall weekend. Photos Toi Whakaari.