In Your Face
Former Black Power leader, academic and one-time Mayoral candidate Shane Turner. Audio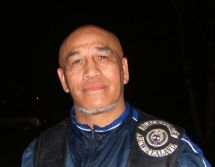 When people meet Shane Turner on the street, or coming into their office or home, all sorts of thoughts cross their minds.
If they are Black Power they feel awe and a degree of discomfort, because Shane, who was once their South Island leader, has moved on.
If they have done time, they feel camaraderie and awe…the tears which are carved into his skin each represent a prison sentence. Shane has spent around 20 years in and out of prison.
If they are white and middle class, they may feel fear, because Shane's face is Maori and tough and scary to say the least.
All of these reactions are legitimate and well understood by the man who elicits them (Shane has spent the last few years studying sociology under the tuition of Greg Newbold at Canterbury University).
Today Shane coaches rugby and works part time delivering dry cleaning for a small Christchurch business.