The Silence And The Light
Futuna chapel, an unrivaled example of New Zealand's religious architecture. Audio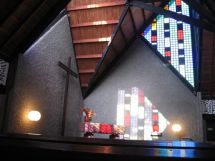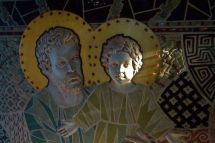 Chapel interior photo: Suzanne Foster. Art work photo: Sam Cottle.
Futuna chapel is an unequaled example of New Zealand's religious architecture and its 50 year history is an inspirational story of dedication and survival.
Fifty years ago Maori architect John Scott conceived this Marist chapel as a haven for meditation and retreat, combining traditional Maori elements with the gothic and modernism.
After the fashion of cathedral building in the middle ages, lay-brothers built the chapel to the glory of God, in the Wellington suburb of Karori, with little else but a cement mixer and wheelbarrows. Then sculptor Jim Allen breathed spiritual life into the interior with his acrylic panels and art work.
Leading architect Peter Beaven, lay-brother Joseph Kelly and sculptor Jim Allen return to Futuna and tell Spectrum's Jack Perkins the inspiring story of this marvel of New Zealand religious architecture.