Pat Monaghan and Q406
A world war two sailor revisits the ship on which he served. It's now several motel units. Audio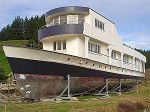 Q406 was one of twelve 'Fairmile' navy ships built in New Zealand at the beginning of World war Two. Pat Monaghan served on board 406 as a young man.
Today both ship and Pat are well retired. 406 is a five unit motel building in the King Country no less!
Pat Monaghan gets to visit her at her new home, and talks to motelier Barry Woods who's been responsible for dragging Q406 across country from Whitianga, and rebuilding her super structure.