Artists At The Grampians
Artists Sally and Eve Hope, granddaughters of Esther Hope, who painted in the McKenzie Country. Audio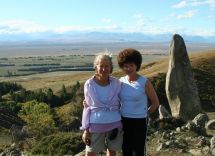 The Grampians is a high country station with a panoramic view of the McKenzie basin and the Southern Alps. The old wooden homestead has remained largely untouched since Esther and Norman Hope farmed there.
Their descendents return for holidays and to draw artistic inspiration from this vast landscape, just as their grandmother did, painting its many lights and seasonal changes. They also keep a custodial eye on the land, constantly weighing up the economic needs of the High Country station with the aesthetic integrity of the landscape they have grown to love.
Spectrum joins Christchurch based portrait painter Sally Hope,and her sister Eve who works as a ceramic artist in a village in Tuscany, as they fossick through the memorabilia of their Granny's home and reflect on how she lived in this landscape and drew inspiration from it.