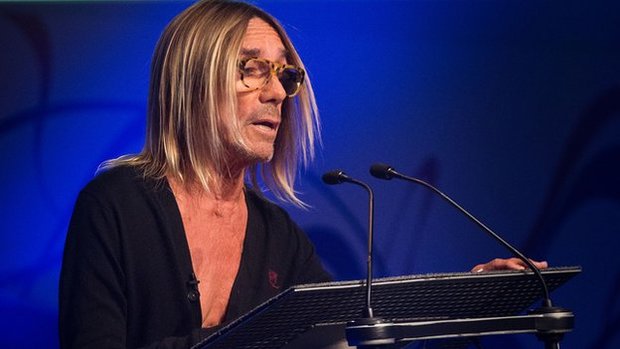 Iggy Pop delivering his Peel Lecture, 2014. Photo: BBC Radio
Recently Iggy Pop delivered a lecture on BBC Radio called 'Free Music in a Capitalist Society', in which he lambasted record companies for screwing musicians into penury. If the "computer Putins" had their way, he argued, he'd be tending bars between sets to support himself.
Julie Hill looks into music royalties in New Zealand: who gets how much and for what, where's the money coming from and what are the alternatives?
Related Audio
Duncan Greive and Matt Nippert on the business of music in 2014
Kim Hill speaks to Ian Jorgenson on 'The Problem With Music In NZ' 2014
Fraser Austin's DIY label Crystal Magic on Music 101 2014
Anthony Healey talks to Insight about what problems the downloading of copyright infringing music was causing the songwriters APRA represents. 2009
Music Details
Artist: The Stooges
Songs: No Fun
Composer:
Album: The Stooges
Label: Elektra
Artist: Lorde
Songs: Royals
Composer: Ella Yelich O'Connor, Joel Little
Album: Pure Heroine
Label: Lava
Artist: Minuit
Songs: 25 Bucks
Composer:
Album: Find Me Before I Die a Lonely Death.com
Label: Tardus Music
Artist: Shellac
Songs: Dude Incredible
Composer:
Album: Dude Incredible
Label: Touch and Go
Artist: Over the Atlantic
Songs: Starsign
Composer: Brinkman/Smith
Album: Junica
Label: A Low Hum
Artist: The Enright House
Songs: Darkwave=MC2
Composer: Roberts
Album: Broken Hands EP
Label: A Low Hum
Artist: Golden Axe and Princess Chelsea
Songs: Sexual Angel
Composer:
Album: Crystal Magic promo CD
Label: Crystal Magic
Artist: Taylor Swift
Songs: Blank Space
Composer: Taylor Swift, Max Martin, Shellback
Album: 1989
Label: Big Machine
Artist: Remind You
Songs: Secrets
Composer:
Album: Crystal Magic promo CD
Label: Crystal Magic
Artist: The Stooges
Songs: I Wanna Be Your Dog
Composer:
Album: The Stooges
Label: Elektra