Saturday Morning for Saturday 20 June 2015
Live from Studio 70A, at BBC Broadcasting House, London.
8:15 Lisa Matisoo-Smith: Africa to Aotearoa
Lisa Matisoo-Smith is Professor of Biological Anthropology and Allan Wilson Centre Principal Investigator at the University of Otago, and has been conducting a 2000-sample DNA survey of New Zealanders for her genetic ancestry study, From Africa to Aotearoa: The Longest Journey. She is in the UK to collect her final sample of 200 from expat New Zealanders living in London.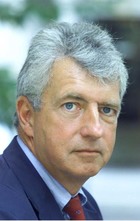 8:35 Colin Brown: revisiting Waterloo
Colin Brown has been a journalist for 30 years, mainly for The Guardian and The Independent, and is a former chair of the British Parliamentary Lobby. As an author, his books include Glory and B*llocks: the Truth behind 10 Defining Events in British History (2013), Real Britannia: Our Proudest Ten Years - the Glory and the Spin (2012), and Whitehall: the Streets That Shaped a Nation (2009). His new book is The Scum of the Earth: What Happened to the Real British Heroes of Waterloo? (The History Press).
9:05 Ross Ashcroft: economics and Europe
Ross Ashcroft is a independent British filmmaker, renegade economist, broadcaster and strategist. He is the founder of the creative partnership Motherlode, and the online platform Renegade Inc. His 2011 debut feature documentary, Four Horsemen, has played in more than thirty countries and was nominated for the Oxfam Global Justice Award. He also chairs the Soul of Europe trust which works at peace building and fighting islamophobia across the continent.
9:35 Anne Noble and Tom Hoyle: photography and science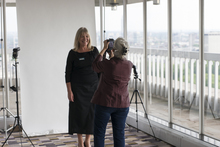 Anne Noble, ONZM, is Distinguished Professor of Fine Art (Photography) at Whiti o Rehua School of Art, Massey University. As a photographer and curator her work spans still and moving image, installation and international curatorial commissions. She is currently in London taking photographs of the DNA sampling events for the Allan Wilson Centre for a project that considers the histories of scientific and identity portraiture, assisted by Tom Hoyle. Tom is a rock climber, photographer and co-author of the Rock Deluxe North guidebook. He has a diploma in photography from Massey University, and is taking its two-year Master of Fine Arts programme.
Distinguished Professor Anne Noble photographing Wendy Newport-Smith of the Allan Wilson Centre (photo by Tom Hoyle). Below: Images from the Conversation Piece Silhouette series of portraits by Anne Noble.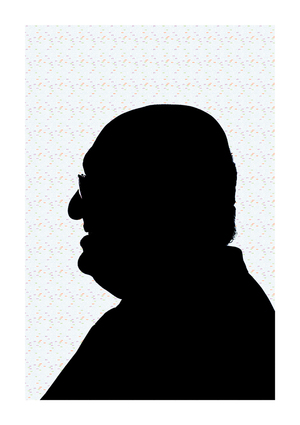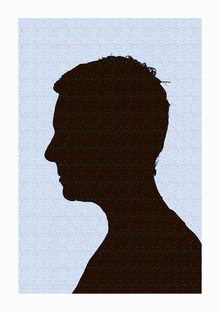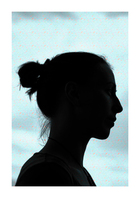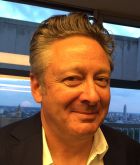 10:05 Russell Gray: DNA and language
Professor Russell Gray, FRSNZ, is the Director of the Max Planck Institute for the Science of Human History in Jena, Germany.
10:50 Adam Wills: changing food culture
Expatriate Wellingtonian Adam Wills co-founded Gourmet Burger Kitchen in 2001, changing the UK burger scene. Five years ago, he co-founded Kopapa Café and Restaurant in Seven Dials, London, and just over a year ago, launched gourmet doughnut business Crosstown Doughnuts.
11:05 A.C. Grayling
Dr Anthony Grayling is Master of the New College of the Humanities at the University of London, and a Supernumerary Fellow of St Anne's College, Oxford. Earlier this month he won the 2015 Bertrand Russell Society Award for his "many contributions to philosophy, humanism, and public life in the spirit of Bertrand Russell".  He is a frequent broadcaster on BBC Radio, and contributes to the Literary Review, Observer, Independent on Sunday, Times Literary Supplement, Index on Censorship, and New Statesman, and is the editor of Online Review London, and a contributing editor of Prospect magazine. He has written and edited over thirty books on philosophy and other subjects; among his most recent are The Good Book, Ideas That Matter, Liberty in the Age of Terror, and To Set Prometheus Free. He has just published The Challenge of Things: Thinking Through Troubled Times (Bloomsbury, ISBN: 978-1-4088-6464-7).
11:45 Michael Cubey: arts out east
Michael Cubey is a painter, and the Executive Director and Head of Creative Workspaces, running the property portfolio at Bow Arts, an artists' studio provider and educational charity that operates a live/work scheme across a number of sites in Bow, East London. It currently houses over 400 artists in six properties, and supports artists through the London's Artist Quarter and Artist Studio Finder websites. Bow Arts is celebrating its 20th anniversary in 2015 with the annual Bow Open Studios event on 19-20 June.
The Saturday Team
Producer: Mark Cubey
Associate producer: Melanie Phipps
BBC London engineer: Tony Baker
Wellington engineer: Lianne Smith
Research by Infofind
Thanks to the Allan Wilson Centre, Royal Society of New Zealand, National Geographic, University of Otago,  Massey University, and the BBC for helping make this broadcast happen.
Music played in this show
Artist: Lord Kitchener
Song: London is the Place for Me
Composer: Lord Kitchener
Album: London Is The Place For Me: Trinidadian Calypso In London 1950-1956
Label: Honest Jons
Broadcast: 8.25
Duration: 2.26
Artist: Kitty, Daisy & Lewis
Song: Ain't Always Better Your Way
Composer: Kitty, Daisy & Lewis
Album: The Third
Label:  Sunday Best
Broadcast: 8.38
Duration: 3.09