Saturday Morning for Saturday 5 July 2014
8:15 Derek Grzelewski
Derek Grzelewski is a writer, filmmaker, former professional fly-fishing guide and founder of the Wanaka Flyfishing Academy. He is a regular contributor to New Zealand Geographic, Australian Geographic, Smithsonian, Flylife and Midcurrent, hosts the popular Trout Diaries podcast, and is the author of The Trout Diaries, and The Trout Bohemia: Fly-fishing Travels in New Zealand. His new book, Going to Extremes: Adventures in Unknown New Zealand (Bateman, ISBN: 978-1-86953-826-2), is being launched at the NZ Mountain Film Festival (4-8 July).
9:05 Hazel Chapman
Dr Hazel Chapman is Professor in Evolutionary Ecology at the University of Canterbury / Te Whare Wananga O Waitaha, and Director of the Nigerian Montane Forest Project, a New Zealand-led research programme in the country's eastern highlands, working to research and protect one of Africa's most endangered habitats.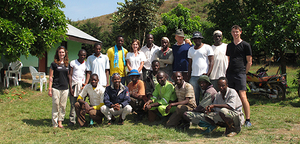 Hazel Chapman and the Montaine Forest Project team, 2012. Photo: Matt Walters, University of Canterbury
9:40 Callum Christopher
Callum Christopher is a teacher and soccer coach at Mt Roskill Grammar School, from which he graduated in 2005. After the success of his 2013 documentary mini-series,
Being Roskill
, about his unique summer football training programme, he is now in the process of releasing a third series online. Shot in Rio de Janeiro, Santos and Salvador over last summer,
Being Roskill Season 3: Brazil
takes an in-depth look at Brazilian football, culture and society as the country prepares to host the 2014 FIFA World Cup. Click here to watch
Episode 1
and
Episode 2
.
10:05 Playing Favourites with Ian Jorgensen
Ian Jorgensen, aka Blink, created and facilitated the long-running underground New Zealand music entity A Low Hum, and over the past decade has published 28 magazines and the guide book D.I.Y. Touring The World, released 42 CDs, three DVDs and vinyl and cassette releases, toured over 60 bands around New Zealand and the world, and hosted eight editions of the annual world-renowned music festival Camp A Low Hum. He recently closed his Wellington music venue, Puppies, after running it for two years as an experiment. He writes about his experiences in the new book, The Problem with Music in New Zealand and How to Fix It & Why I Started and Ran Puppies (A Low Hum Publishing, ISBN: 978-0-473-29066-5).
11:05 Nalini Singh
Fiji-born New Zealander Nalini Singh has worked as a lawyer, a librarian, an English teacher, and a general hand in a candy factory, but is best-known for her paranormal romance fantasy novels, including the New York Times bestselling Psy/Changeling series. The latest book in the series is Shield of Winter (Gollancz, ISBN: 978-0-575-11147-9). Nalini will be attending the 2014 Romance Writers' Conference in Auckland (14-17 August).
11:45 Kate's Klassic: For the Term of His Natural Life
Kate Camp has published five collections of poems, most recently Snow White's Coffin (Victoria University Press, ISBN: 978-0-86473-888-2). She will discuss For the Term of His Natural Life, the nineteenth-century novel by Australian writer Marcus Clarke (Tasmanian Book Company, ISBN: 1-876095-02-4).
Music played during the programme
Details of tracks and artists will be listed on the Playlist section of this page shortly following broadcast.
This Saturday's team
Producer: Mark Cubey
Wellington engineer: Lianne Smith
Auckland engineer: Ian Gordon
Research by Anne Buchanan, Infofind
Music played in this show
Playlist
Ejector: Drift
From the 2002 EP: Lower You Go
(Hum)
Played at around 10:15
My Disco: Closer
From the 2010 album: Little Joy
(Temporary Residence)
Played at around 10:25
Pumice: Ridge
From the 2004 album: Raft
(Last Visible Dog)
Played at around 10:35
Disasteradio: Sweatshop
First single from the forthcoming 2014 album: Sweatshop
Played at around 10:55
Quantic, featuring Alice Russell: You Will Return
From the 2014 album: Magnetica
(Tru Thoughts)
Played at around 11:45