Saturday Morning for Saturday 3 August 2013
8:15 Eleanor Learmonth
Eleanor Learmonth has a reputation as a magnet for natural disasters. With fellow journalist Jenny Tabakoff, she has written No Mercy: True Stories of Disaster, Survival and Brutality (Text Publishing, ISBN: 978-1-92212-724-0).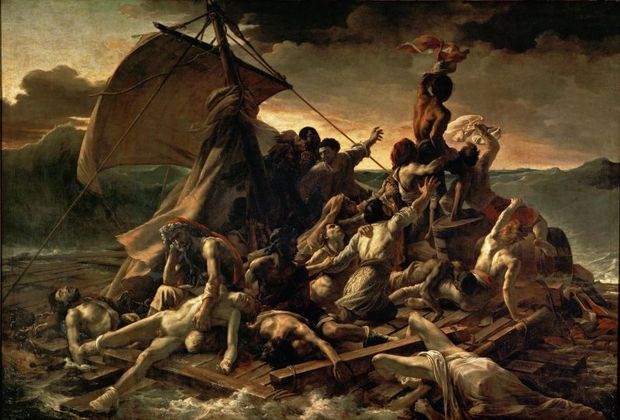 The Raft of the Medusa, oil painting (1818–1819) by Théodore Géricault, as mentioned in No Mercy.
9:05 Stephen Shore
Dr Stephen Shore is assistant professor of special education at Adelphi University in New York. His teaching and research focuses on improving the lives of people on the autism spectrum, and his books include the memoir Beyond the Wall: Personal Experiences with Autism and Asperger Syndrome (2003, AAPC, ISBN: 1-931282-19-6). He is visiting here as a guest of Autism New Zealand to present his seminar, Success with Autism: Using Our Strengths for Achieving a Fulfilling and Productive Life - Just like Everyone Else, in Wellington (2 August) and Christchurch (5 August).
9:45 Sebastian Hallum Clarke
Sebastian Hallum Clarke is a student at Scots College, Wellington, and a software developer. He was awarded the Highly Commended Award for the best secondary school student at the 2013 Eureka! Symposium. His presentation, The Genesis Project: Creating the Talent New Zealand Needs, argued for increasing computer science education in primary schools. Last month, he attended the International Baccalaureate World Student Conference, ECOnomics: Creating a Sustainable Future, at the University of British Columbia in Vancouver, Canada.
10:05 Playing Favourites with Eleanor Catton
Eleanor Catton's debut novel The Rehearsal (Victoria University Press, ISBN: 9780864735812), received international prizes and acclaim, and has been translated into twelve languages. Eleanor holds an MFA from the Iowa Writers' Workshop, where she taught creative writing as an adjunct professor in 2010, and now lectures in creative writing at the Manukau Institute of Technology in Auckland. Her recently published second novel, The Luminaries (Victoria University Press, ISBN: 978-0-86473-912-4), has been longlisted for the Man Booker Prize. Eleanor will discuss The Luminaries with publisher Fergus Barrowman at the free Writers on Monday session at Te Papa on 5 August.
11:05 Leilani Tamu
Leilani Tamu is a Polynesian poet, former New Zealand diplomat, freelance journalist and creative entrepreneur. Last month she was awarded the 2013 Fulbright Creative New Zealand Pacific Writer's Residency.
11:45 Children's Books with Kate De Goldi
New Zealand writer Kate De Goldi is the author of many books, including The 10pm Question and The ACB with Honora Lee. She discusses chapter books, with reference to:
Violet Mackerel's Pocket Protest by Anna Branford, illustrated by Sarah Davis (2013, Walker Books, Australia, ISBN: 978-1-921977-57-2);
Lulu and the Hamster in the Night by Hilary McKay and Priscilla Lamont (2013, Scholastic, UK, ISBN: 978-1 407132-01-3);
The Perplexing Pineapple (The Cryptic Case of Coco Carlomagno and Alberta #1) by Ursula Dubosarsky, illustrated by Terry Denton (2013, Allen & Unwin, Australia, ISBN: 978-1-743312-5-75);
Diary of a Sea Lion by Sally Sutton, illustrated by Dave Gunson (2013, Scholastic, NZ, ISBN: 978-1-77543-152-7);
Ivy + Bean and the Ghost That Had To Go by Annie Barrows, illustrated by Sophie Blackall (2006, Chronicle Books, San Francisco, ISBN: 978-0-8118-4910-4);
Lady Long-Legs by Jan Mark, illustrated by Paul Howard (1999, Walker Books, UK, ISBN: 1-84428-128-0);
Taking the Cat's Way Home by Jan Mark; illustrated by Paul Howard (1994, Walker Books, UK, ISBN: 1-84428-128-0); and
Storm by Kevin Crossley-Holland, illustrated by Alan Marks (1985, Egmont, UK, ISBN: 0-7497-4498-X).
Music played during the programme
Details of tracks and artists will be listed on the Playlist section of this page shortly following broadcast.
Studio operators
Wellington engineer: Dominic Godfrey
Auckland engineer: Ian Gordon
Music played in this show
Playlist
Gregory Porter: Liquid Spirit
From the forthcoming 2013 album: Liquid Spirit
(Blue Note)
Played at around 9:45
The Stepkids: Get Lucky
From the 2013 single: Live Covers
(Stones Throw Records)
Played at around 11:40
Playing Favourites with Eleanor Catton
Midlake: Acts of Man
From the 2010 album: The Courage of Others
(Speaknspell)
Played at around 10:15
Fleetwood Mac: Seven Wonders
From the 1987 album: Tango in the Night
(Reprise)
Played at around 10:30
Lucinda Williams: Metal Firecracker
From the 1998 album: Car Wheels on a Gravel Road
(Mercury)
Played at around 10:40
Emmylou Harris: Born to Run
From the 1981 album: Cimarron
(Warner Bros)
Played at around 10:55