Saturday Morning for Saturday 27 July 2013
8:15 Jo Appleby
Dr Jo Appleby, from the University of Leicester, is the lead osteo-archealogist on the project team that solved the 500-year-old mystery around the remains of Richard III, extracting the DNA sample from the skeleton unearthed under a council carpark in Leicester. She is visiting New Zealand as a guest of The British Council and Ancestry.com.au to present the story of the investigation, at the NZ Family History Fair (free entry, Vodafone Events Centre, Manakau, 2-4 August), organised by the New Zealand Society of Genealogists.
9:05 Peter Lineham
Peter Lineham is Associate Professor of History, at Massey University's Albany campus, and his research focuses on religion in New Zealand life and history. His new book, Destiny: the Life and Times of a Self-Made Apostle (Penguin, ISBN: 978-0-143-56891-9), looks at Brian Tamaki and the Destiny Church.
10:05 Playing Favourites with Ngahuia Te Awekotuku
Dr Ngahuia Te Awekotuku is Professor of Research and Development at Te Puawananga ki te Ao, University of Waikato, and an authority on moko. With Rosslyn Noonan she has curated Tirohia Mai Look At Us Now at the National Library, the first exhibition in 20 years to focus on the contribution of women to New Zealand, and reflecting some of the curators' participation in the women's liberation movement of the 1970s (to 15 November).
11:05 Sister Loyola Galvin and Jess Feast
Sister Loyola Galvin, from the Home of Compassion in the Wellington suburb of Island Bay, was named national NZ Gardener of the Year 2008 by NZ Gardener magazine, and interviewed twice on the programme in 2008. Filmmaker Jess Feast was inspired by those interviews to make a documentary film about Sister Loyola, Gardening With Soul, which receives its world premiere in Wellington on 27 July at the 2013 New Zealand International Film Festival, before screenings in Auckland, Christchurch, Dunedin, Hamilton and other centres around the country.
11:40 Andrew McMillan
Andrew McMillan is a leading figure in the Auckland improvised music scene, as a founding member of Vitamin S, a member of performance group Shameless Crowdpleaser, and founder, composer and director of the New Pacific Music Ensemble. He also works as a sound designer of theatre, dance, film and television for companies such as Red Leap Theatre, Touch Compass, Silo Theatre and Auckland Theatre Company. He has incomplete tetraplegia following a BMX accident in 2004, and will receive the Artistic Achievement Award at the Big 'A' Awards 2013, presented by Arts Access Aotearoa at Parliament on 30 July.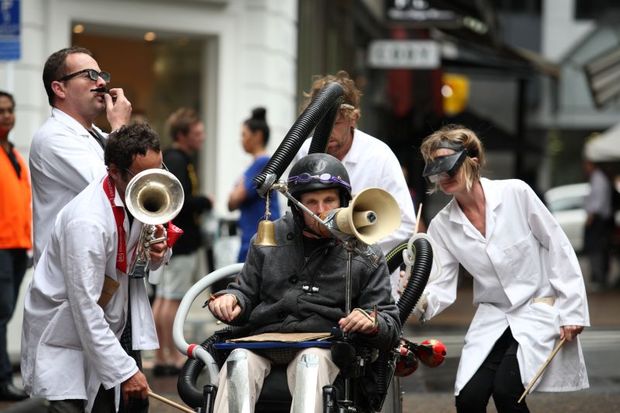 Photograph by Paul Buckton.
Music played during the programme
Details of tracks and artists will be listed on the Playlist section of this page shortly following broadcast.
Studio operations
Line producer: Chris Whitta
Wellington engineer: Carol Jones
Auckland engineer: Jeremy Ansell
Hamilton engineer; Andrew McRae
Christchurch engineer: Andrew Collins
Music played in this show
Nicole Willis and the Soul Investigators: On The East Side
From the 2013 album: Tortured Soul
(Timmion Records)
Played at around 8:55
The James Hunter Six: The Gypsy
From the 2013 album: Minute by Minute
(Fantasy)
Played at around 11:35
New Pacific Music Ensemble: Arevira
From the 2006 album: Mareureu
(Pacific Echoes)
Played at around 11:55
Playing Favourites with Ngahuia Te Awekotuku
The Priests: Ag Criost An Siol (To Christ The Seed)
From the 2008 album: The Priests
(Sony)
Played at around 10:15
Lucia Popp (soprano) with the Ambrosian Opera Chorus, Academy of St Martin-in-the-Fields: Voi, Che Sapete
From the 1985 album: The Marriage of Figaro
(Philips)
Played at around 10:30
Whirimako Black: He Taonga
From the 1999 album: Shrouded in the Mist/ Hinepukohurangi
(Muscle Music)
Played at around 10:35
Bob Dylan: Masters of War
From the 1963 album: The Freewheelin' Bob Dylan
(Columbia)
Played at around 10:45
Ana Hato and Deane Waretini: Te Taniwha/ Matangi
From the 1995 compilation album: Legendary Recordings 1927-1949
(Kiwi Pacific)
Played at around 10:55