Saturday Morning for Saturday 31 March 2012
Guest details for Saturday Morning 31 March 2012
8:15 Daniel Hamermesh
Daniel S. Hamermesh is a Professor in the Department of Economics at the University of Texas at Austin. He is a Fellow of the Econometric Society, a research associate of the National Bureau of Economic Research, and was President of the Society of Labor Economists in 2000-01. He  is the author of numerous articles and books, most recently Beauty Pays: Why Attractive People Are More Successful (Princeton University Press, ISBN 978-0-6911-4046-9 ).
8:30 Damon Salesa
Professor Toeolesulusulu Damon Salesa graduated from the University of Oxford with a Doctor of Philosophy in modern history, the first Rhodes Scholar of Pacific descent He has spent the last ten years at the University of Michigan, and returned to New Zealand as Associate Professor at the University of Auckland's Centre for Pacific Studies. Professor Salesa is a keynote speaker at the Growing Pacific Solutions for Our Families conference in early April, focusing on mental health, addiction and disability issues for Pacific peoples.
9:05 Greg McGee
Auckland writer Greg McGee is best known for his plays, particularly Foreskin's Lament, and has also scripted film and television drama. His book Love and Money (Penguin, ISBN 978-0-14-356740-0) is his third novel, but the first under his own name. Greg will be a guest at the 2012 Auckland Writers and Readers Festival (9-13 May).
9:45 Art with Mary Kisler
Mary Kisler is the Senior Curator, Mackelvie Collection, International Art, at the Auckland Art Gallery Toi o Tamaki. She will discuss the life and work of Vincent van Gogh, including two paintings in the Degas to Dali exhibition, which features masters from the National Galleries of Scotland, currently exhibiting at the Auckland Art Gallery (to 10 June). Images under discussion are available for view in the Art on Saturday Morning gallery.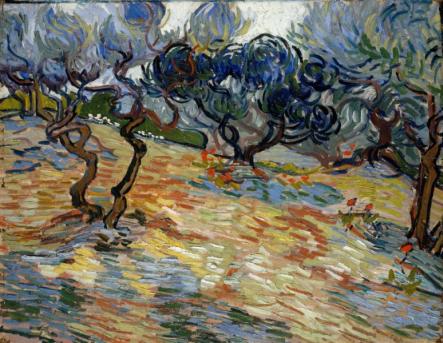 Olive Trees 1889 © National Gallery of Scotland. Currently in Degas to Dalí Auckland Art Gallery Toi o Tāmaki until June 10.
10:05 Lucinda Williams
Lucinda Williams is a Grammy Award-winning singer songwriter who has been mixing rock, blues, folk and country music in her music since her debut recording in 1979 through to last year's album, Blessed. She visits New Zealand next month for concerts in Auckland (Town Hall, 10 April) and Wellington (St James, 11 April).
11:05 Sally Kabak
Sally Kabak and her husband are caregivers to their granddaughter. Based on her experience, Sally has written a book, Grandchildren: Our Hopes and Dreams - A Modern and Practical Guide to Raising Grandchildren (Xlibris, ISBN 978-1-4653-9866-6). (Mentioned during the inrterview: the Grandparents Raising Grandchildren Trust.)
11:40 Margo Lanagan
Margo Lanagan is an Australian writer of short stories and young adult fiction. Her latest book, Sea Hearts (Allen & Unwin, ISBN 978-1-7423-7505-2), has the legend of the selkie as its background (and has been retitled The Brides of Rollrock Island outside of Australia and New Zealand).
Music played during the programme
Boom Pam: Alakazam
From the 2012 album: Alakazam
(Sailor Music)
Played at around 9:40
Lucinda Williams: Car Wheels on a Gravel Road
From the 1998 album: Car Wheels on a Gravel Road
(Mercury)
Played at around 10:10
Lucinda Williams: Are You Alright?
From the 2007 album: West
(Lost Highway)
Played at around 10:25
Lucinda Williams: Kiss Like Your Kiss
From the 2011 album: Blessed
(Lost Highway)
Played at around 10:45
Lucinda Williams: Changed the Locks
From the 1989 album: Lucinda Williams
(Rough Trade)
Played at around 10:55
Duotone: Till It's Over
From the 2012 album: Ropes
(ECC Records)
Played at around 11:30
Studio operators
Wellington engineer: Damon Taylor
Auckland engineer: Ian Gordon