Saturday Morning for Saturday 10 March 2012
Guest details for Saturday Morning 10 March 2012
8:15 Gary Mulgrew
Scotsman Gary Mulgrew had an international finance career in Britain, the USA, Canada and Australia, until he was arrested for fraud, extradited to Texas, and incarcerated in one of America's toughest prisons. Released in 2010, and now a successful businessman, he tells his story in Gang of One (Hodder & Stoughton, ISBN: 978-1-444-73790-5).
8:45 Craig Rodger
Dr Craig Rodger is Associate Professor, Physics, at the University of Otago, and joint principal investigator of the Antarctic-Arctic Radiation-belt (Dynamic) Deposition VLF Atmospheric Research Konsortium (AARDDVARK). He was part of the team that managed to document the largest known recorded solar flares in 2003.
9:05 Leonard Bell
Leonard Bell lectures in art history at the University of Auckland, and is the author of several books. He is the co-editor, with historian Diana Morrow, of Jewish Lives in New Zealand (Godwit, ISBN: 978-1-86962-173-5), the first authoritative history of the impact of Jewish settlers on New Zealand since the 1840s.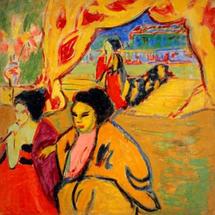 9:45 Art with Mary Kisler
Mary Kisler is the Senior Curator, Mackelvie Collection, International Art, at the Auckland Art Gallery Toi o Tamaki. She will discuss the Degas to Dali exhibition, featuring masters from the National Galleries of Scotland, currently exhibiting at the Auckland Art Gallery (to 10 June). Images under discussion are available for view in the Art on Saturday Morning gallery.
Ernst Ludwig Kirchner (1880–1938) Germany Japanese Theatre c1909 oil on canvas, 113.7 x 113.7 cm GMA 911.
10:05 Playing Favourites with Simon Bennett
Simon Bennett is a drama director and producer with extensive stage and screen experience. As well as being a founder of Wellington's BATS Theatre, Simon has directed Shakespeare, Sondheim musicals and New Zealand plays throughout the country. His screen experience includes directing episodes of long-running television successes Shortland Street (which he produced from 1997 to 2000) and Outrageous Fortune, as well as directing the feature film Sione's 2: Unfinished Business, which screened here in January and opened in Australia this month. Simon is the producer and a director of comedy-drama The Almighty Johnsons, about four New Zealand brothers who are Norse gods; the second series is currently screening on TV3.
11:05 Blythe Duff
Scottish actress Blythe Duff is best known for her role as Jackie Reid in the television drama Taggart. She is in the cast of Beautiful Burnout, a co-production from Frantic Assembly and the National Theatre of Scotland that explores boxing culture. It is currently playing at the 2012 New Zealand International Arts Festival (to 18 March).
11:40 Kelly Link
American "slipstream" writer Kelly Link mixes the genres of science fiction, fantasy, horror, and mystery. Her short story collections include Pretty Monsters (Text, ISBN: 978-1-921656-36-1) and The Young Grave (Text, ISBN: 978-1921520730), and she is co-editor (with Gavin Grant) of the anthology Steampunk (Small Beer/Walker, ISBN: 978-0763656386). Kelly Link is a guest speaker at Writers and Readers Week (9-14 March) during the 2012 New Zealand International Arts Festival.
Music played during the programme
Bobby Womack: Please Forgive My Heart
From the forthcoming album: The Bravest Man in the Universe
(XL)
Played at around 9:40
Lee Fields: Who Do You Love?
From the forthcoming 2012 album: Faithful Man
(Truth & Soul)
Played at around 11:35
Playing Favourites with Simon Bennett
Th' Dudes: Be Mine Tonight
The 1979 single, from the 2001 compilation album: Where Are the Girls
(FMR)
Played at around 10:25
The Front Lawn: Andy
From the 1989 album: Songs from The Front Lawn
(Front Lawn)
Played at around 10:40
Robert Westenberg and Chuck Wagner: Agony (Reprise)
From the 1987 original cast recording: Into the Woods
(RCA)
Played at around 10:50
Studio operators
Wellington engineer: Damon Taylor
Auckland engineer: Ian Gordon