Saturday Morning for Saturday 11 September 2010
Guest details for Saturday Morning 11 September 2010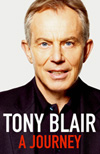 8:15 Tony Blair
Tony Blair is a former British Labour Party politician and Prime Minister of the United Kingdom (1997-2007). He provides strategic advice through Tony Blair Associates, runs the Tony Blair Faith Foundation, the Tony Blair Sports Foundation and the Blair Africa Governance Initiative, and is an unpaid peace envoy to the Middle East. His memoir, A Journey (Hutchinson, ISBN: 978-0-09-192555-00), has just been published.
8:35 Sal Khan
Salman Khan founded the Khan Academy with the hope of using technology to foster new learning models. His homemade tutorials on YouTube are the most popular educational resource on the web. Sal is currently the portfolio manager of a fund based in California, and has an MBA from Harvard Business School, a Masters in electrical engineering and computer science, a BS in electrical engineering and computer science, and a BS in mathematics from MIT.
9:05 Cath Tizard
Dame Cath Tizard is a former mayor of Auckland and New Zealand's first woman Governor General. Her memoir, Cat Amongst the Pigeons (Random House, ISBN: 978-1-86979-300-5), will be published on 17 September.
9:40 David Michôd
David Michôd is an Australian film writer and director, whose debut feature is a thriller revolving around a Melbourne criminal family. Animal Kingdom won the World Cinema Jury Prize at the 2010 Sundance Film Festival, and goes on general New Zealand release from 16 September.
10:05 TrinityRoots
Warren Maxwell, Rio Hunuki-Hemopo and Riki Gooch formed the reggae, soul and jazz influenced group TrinityRoots in 1998. The band self-released two platinum albums (True; Home, Land and Sea) before disbanding in 2005. Warren was a member of Fat Freddy's Drop until late 2006 when he left to form Little Bushman. Rio was a member of the live band for Breaks Co-op, and is working on his own solo project. Riki Gooch is currently performing as Eru Dangerspiel, presenting his Great News for the Modern Man CD/DVD project with a large live large troupe at Town Hall concerts in Auckland (8 October) and Wellington (9 October). The reunited TrinityRoots have just released Music Is Choice, a CD /DVD package of live performances and feature-length documentary, and their studio albums have been reissued with bonus tracks. TrinityRoots will perform concerts in Christchurch (The Bedford, 22 October), Wellington (Opera House, 23 October) and Auckland (Town Hall, 29 October).
10:45 Kate De Goldi
Kate De Goldi is the recipient of the Creative New Zealand Michael King Writers' Fellowship, and Saturday Morning's commentator on children's books. She was in her old home city of Christchurch last Saturday.
11:05 Sister Sheila O'Toole (Part one of a two-part interview)
Sister Sheila O'Toole RNDM went to Saigon in 1969; during the Vietnam War she was held hostage in a prisoner of war camp and was one of the last people to depart from the United States' Embassy in 1975. She returned to Vietnam in 1992 and spent another 12 years there, and is the most decorated New Zealander in relation to Vietnam (Companion of the New Zealand Order of Merit, and Companion of the Queen's Service Order). Sister Sheila is the author of the 2007 book Behind the Visor: My Life in Wartorn Vietnam (ISBN: 978-0-473-12516-5), and has contributed her recollections to a large new history, New Zealand's Vietnam War by Ian McGibbon (Exisle, ISBN: 978-0-908988-96-9).
11:35 Janice Marriott and Virginia Pawsey
Janice Marriott and Virginia Pawsey are two Gisborne schoolmates who rekindled their friendship through their shared love of gardening, publishing their letters as the 2008 book, Common Ground (HarperCollins). Their new book of collected letters, Common Table (HarperCollins, ISBN: 978-1-86950-841-8), traces their lives through the seasons of their kitchens in Wellington and North Canterbury. Janice and Virginia will be guests of the Nelson Arts Festival (14-25 October) on 17 October.
Music played during the programme
Robert Plant: Even This Shall Pass Away
From the 2010 album: Band of Joy
(Decca)
Played at around 8:35
TrinityRoots: Two By Two
From the 2010 live album: Music is Choice
(TrinityRoots)
Played at around 10:05
Eru Dangerspiel: You Would Know
From the 2010 live album: Great News for the Modern Man
(LOOP)
Played at around 10:20
TrinityRoots: Home, Land and Sea
From the 2004 album: Home, Land and Sea
(TrinityRoots)
Played at around 10:40
Leon Russell and Elton John: If It Wasn't For Bad
From the upcoming 2010 album: The Union
(Decca)
Played at around 11:40
Studio operators
Wellington engineer: Carol Jones
Auckland engineer: Ian Gordon