Saturday Morning for Saturday 3 April 2010
Guest details for Saturday Morning 3 April 2010:
8:15 Bryan Bruce
Bryan Bruce is the presenter and producer of TV show The Investigator, and author of the food history book A Taste of History, and true crime book Hard Cases. He travelled to the Middle East and talked to historical experts and archaeologists in six countries to investigate who killed Jesus, for his new book, Jesus: the Cold Case (Random House, ISBN: 9781869791971) and an upcoming TV documentary of the same name.
8:45 Norbert Hoeller
Norbert Hoeller of Ontario, Canada, is a director of BioDreamMachine, a California non-profit with the mission to bring the benefits of bio-inspired design to public and private education in the United States. He has worked with the Biomimicry Guild and Biomimicry Institute in Montana, USA, coordinating university education activities in North America, improving communications within the biomimicry community, and editing and writing for the BioInspired! newsletter. While visiting New Zealand on holiday, he is acting as a catalyst for discussion at the 'Biomimicry for Everyone' event at the Biomimicry Awareness Quest in Auckland on 6-7 April, organised by the Kaitiakitanga network and others.
9:05 Barbara Ehrenreich
Barbara Ehrenreich is the author of 14 books including Nickel and Dimed, and Bait and Switch. Her new book, Smile or Die (Granta, ISBN: 978-1-84708-135-3), was conceived when she became ill with breast cancer, and explores the tyranny of positive thinking.
9:45 Art with Mary Kisler
Mary Kisler is the Mackelvie Curator of International Art at the Auckland Art Gallery Toi o Tamaki. She will discuss the 4th Auckland Triennial, 'Last Ride in a Hot Air Balloon', which runs to 20 June 2010 at five spaces in central Auckland. Mary is working on a book about European art in New Zealand's public collections.
10:05 Playing Favourites with Paterson Riley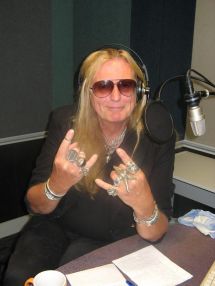 Paterson Riley left New Zealand for London in the early 1970s, and established a rock'n'roll jewellery business, The Great Frog, on Carnaby Street.
11:05 Angela Lassig
Angela Lassig is former Senior Curator of History at the Museum of New Zealand Te Papa Tongarewa. She is the author of a new illustrated book that profiles 25 contemporary New Zealand designers: New Zealand Fashion Design (Te Papa Press, ISBN 9781877385377).
11:35 Bill Barton
Internationally recognised mathematics educator Professor Bill Barton is Associate Head of the Mathematics Department at Auckland University, President of the International Commission on Mathematical Instruction (ICMI), and coordinator of the joint ICMI-IMU (International Mathematics Union) Klein Project to illuminate the mathematics sciences for secondary school teachers worldwide and inspire them in their work. This month he will host four events at the University, including the first meeting of the 2010-2012 ICMI Executive Committee (5-8 April) which brings together 10 of the world's top mathematics educators and mathematicians, a national conference of senior secondary mathematics teachers and university lecturers (11-12 April), his inaugural lecture as professor (The Pleasure Principle in Undergraduate Mathematics, 12 April), and the second meeting of the Klein Project Design Team (13-16 April).
Music played during the programme

Playing Favourites with Paterson Riley
The Kinks: Dedicated Follower of Fashion
The 1965 single
(Pye)
Played at around 10:10
Alvin Stardust: My Coo-Ca-Choo
The 1973 single
(Magnet)
Played at around 10:30
Ray Wiley Hubbard: Snake Farm
From the 2006 album: Snake Farm
(Sustain)
Played at around 10:45
Arthur Louis: Black Cat
From the 2010 album: Black Cat
(Black Cat Records)
Played at around 10:55
Studio operators
Wellington engineer: Damon Taylor
Auckland engineer: Ian Gordon