Saturday Morning for Saturday 7 November 2009
Guest details for Saturday Morning 7 November 2009
8:15 Greg Browne
Dr Greg Browne is a sedimentologist who has discovered the first dinosaur footprints in New Zealand. As section manager of the Hydrocarbons, Natural Resources Group at GNS Science, he has worked on a wide range of stratigraphic, sedimentological, and petroleum-related projects throughout New Zealand, and in Canada.
Images of the dinosaur footprints from north-west Nelson region:
(all photos copyright GNS Science. Used with permission)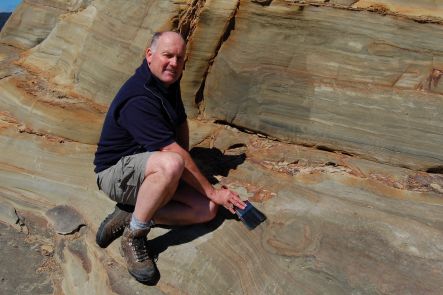 Greg Browne with dinosaur print. Photo: M. Terezow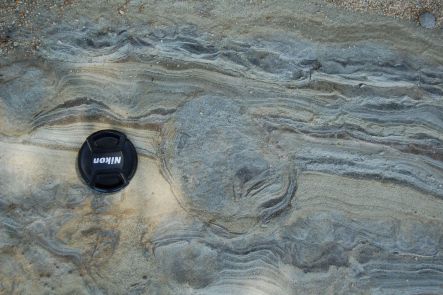 Top of footprint. Photo: M. Terezow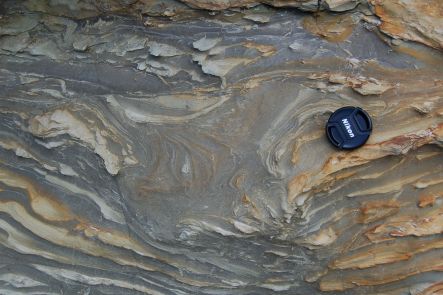 Cross-section of dinosaur footprint. Photo: M. Terezow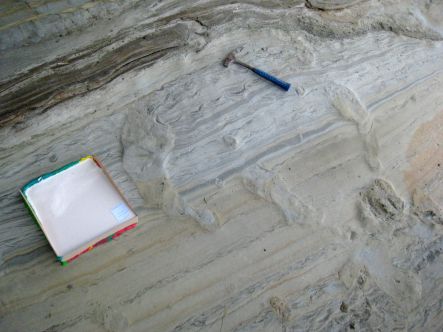 Dinosaur prints with mould setting. Photo: J. Thomson
Silicon peel of dinosaur footprint. Photo: M. Terezow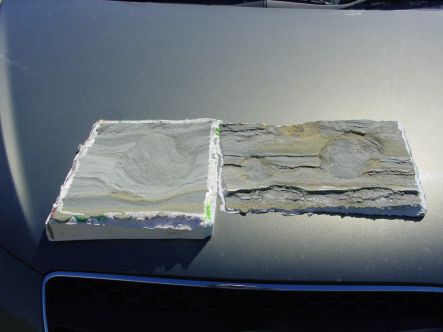 Silicon peels of dinosaur footprints. Photo: M. Terezow
8:35 Garth Smith
New Zealand plant physiologist Dr Garth Smith worked at HortResearch for 30 years, and now lives in Guilin, China, where he is a managing director and a co-founder of the BioVittoria company, which operates a Luo Han fruit orchard and extracts a highly concentrated organic, zero-calorie sweetener about to enter the market in the United States.
9:05 Robert Kirshner
Robert P. Kirshner is Harvard College Professor of Astronomy and Clowes Professor of Science at Harvard University. One of the world's leading astronomers, his scientific research has resulted in significant breakthroughs on the nature of the universe, and he is the author of The Extravagant Universe: Exploding Stars, Dark Energy and the Accelerating Cosmos (Princeton Science Library, ISBN: 978-0-691-11742-3). He is visiting here as the Royal Society of New Zealand Distinguished Speaker for 2009, and will deliver his lecture, Einstein's Blunder Undone, in Auckland (10 November), Wellington (11 November), and Christchurch (12 November).
9:45 Art with Mary Kisler
Mary Kisler is the Mackelvie Curator of International Art at the Auckland Art Gallery Toi o Tamaki. She will discuss five works (by Picasso, Braque, Dalí, Derain and Matisse), that have never been exhibited before in New Zealand. These are on show for seven days only (to 13 November) at the Auckland Art Gallery, as a sneak preview to the promised gift of 15 works from New York art collectors and philanthropists Julian and Josie Robertson. To view images of the works under discussion, click on the Art on Saturday Morning link on the right-hand side of our Saturday web page. Mary is currently working on a book about European art in New Zealand's public collections.
10:05 Playing Favourites with Reg Mombassa
New Zealand artist and musician Reg Mombassa was a founder member of the Australian group Mental as Anything, and his designs were instrumental in the success of surfwear company Mambo Graphics. He has an ongoing career as a globally acclaimed fine artist. Reg tells his story to fellow New Zealand-born painter and writer Murray Waldren, in The Mind and Times of Reg Mombassa (HarperCollins, ISBN: 978-0-7322-8789-4).
11:10 Walter Mischel
Walter Mischel is the Robert Johnston Niven Professor of Humane Letters in the Department of Psychology at New York's Columbia University, and specializes in personality theory and social psychology. His famous "marshmallow experiment" and subsequent research has shown how preschool delay of gratification ability links to development over the course of life.
11:40 Jeremy Pope
After 17 years with the Commonwealth Secretariat in London, New Zealand lawyer Jeremy Pope specialised in anti-corruption campaigns, and was the founding managing director of Transparency International based in Berlin. He and his wife Diana wrote the best-selling Mobil travel guides of the North and South islands in the 1970s; they have been revising them ever since, and the fully rewritten and expanded Penguin New Zealand Travel Guide: North Island (Penguin, ISBN: 978-014301010-4) has just been published.
Music played on the programme
Humphreys & Keen: Bright Shining Star
From the 2005 album: The Overflow
(Sweet Pea)
Played at around 9:40
Playing Favourites with Reg Mombassa
Dog Trumpet: Anti Social Tendencies
From the 2007 album: Anti Social Tendencies
(Half A Cow Records)
Played at around 10:10
Muddy Waters: I Can't Be Satisfied
From the 2009 album: The History of Rhythm and Blues 1942-1952
(Rhythm and Blues Records)
Played at around 10:20
The Rolling Stones: Little Red Rooster
From the 1965 album: The Rolling Stones Now!
(ABKCO)
Played at around 10.30
Bob Dylan: John Wesley Harding
From the 1967 album: John Wesley Harding
(Columbia)
Played at around 10:45
Evan Dando: Rudy With A Flashlight
From the 1997 album: The Inner Flame
(Atlantic)
Played at around 10:55
Daniel Lanois: Jolie Louise
From the 1989 album: Acadie
(Opal)
Played at around 11.05
Studio operators
Associate producer: Sean McKenna
Wellington engineer: Phil Swallow
Auckland engineer: Jeremy Ansell