Our Changing World for Thursday 26 September 2013
Kiwibots Robotics Competition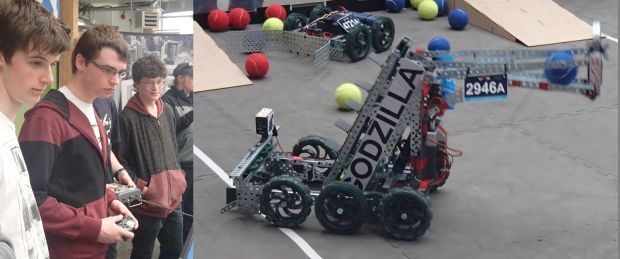 Matthew (left) and Jack (centre) from Taita College watch their robot Godzilla in action (images: A. Ballance)
When it comes to designing and building robots, New Zealand secondary school students are the world's best, having won the international VEX Robotics competition for five years in a row. But before they compete on the international stage young robotics fans get to test out their machines and skills in a uniquely Kiwi competition.
Alison Ballance heads along to the Wellington Institute of Technology for the Wellington regional competition, where Graham Carson, head of the School of Engineering at Weltec explains what's going on; head of Weltec Linda Sissons talks about encouraging students to study the STEM subjects (Science, Technology, Engineering and Mathematics); teacher and commentator Graham Conlon from Feilding High School explains the rule of the Kiwi Challenge; and Chris Hamling, general manager of Kiwibots, talks about the international robotics challenges.
Alison also spends time with students from Wellington East Girls' College, St Peter's College in Palmerston North (whose robot was called Peter), Feilding High School,and Taita College in the Hutt Valley, whose Godzilla robot won the Wellington regional competition.

The team from Wellington East Girl's College work on their robot (left); the robot Peter, and some of the team from St Peter's College (images: A. Ballance)
Single-blade Wind Turbine
The Thinair turbine in action, Bill Currie (image: William Early) and a single-blade wind turbine in the field
Traditional wind turbines are constructed with multiple blades attached to a fixed hub. Large commercial wind-turbines include mechanisms which enable blade angles to vary to maximise energy production and protect blades from damage in heavy winds. These mechanisms are too expensive for domestic wind turbines, but Powerhouse Wind is a Dunedin company based at Otago Polytechnic that is developing a turbine with a single-blade teetering hub design. The design allows the blade angle to change in response to variations in wind speed, allowing it to make more efficient use of strong and gusty wind. It also protects the turbine from damage in extreme wind, as it can fold up, tilting to a horizontal position like a wind sock. It is also considerable quieter than traditional turbines. The turbine can be used for houses that are connected to the grid, feeding energy back, or for houses that aren't connected.  The turbine is rated at 2kW at 20 knots, with a maximum power of between 2.5 and 3kW. On a good wind site, it would produce 9 to 10 kW hours per day, which is about half the power of a normal New Zealand house.
Ruth Beran meets Powerhouse Wind director Bill Currie to see the novel Thinair turbine.
Above the Treeline – New Zealand's Alpine Plants
Sir Alan Mark is emeritus professor in the Department of Botany at the University of Otago, and he's spent much of his life up in the mountains studying New Zealand's unique alpine plants. As well as being a botanist with a long-standing interesting in the ecology of tussock grassland ecosystems, he has been a strong advocate for conservation. He was New Zealand's first Knight honoured for services to conservation.
His recent book 'Above the Treeline – a nature guide to alpine New Zealand' (Craig Potton Publishing 2012) updates a classic out-of-print book on alpine plants published with botanical illustrator Nancy Adams. Above the Treeline also features sections on alpine insects by Brian Patrick, birds by Rod Morris, reptiles by Mandy Tocher, and lichens by David Galloway.
IPCC Climate Change Report
The Intergovernmental Panel on Climate Change has released the first segment of the Fifth Assessment Report (AR5), a comprehensive review of the latest research and current understanding of climate change science. Government representatives and scientists from 39 countries have approved the Summary for Policymakers (pdf) of the first part of the report, which was released alongside the full report, including, for the first time, an Atlas of Global and Regional Climate Projections.
The report concludes that "human influence on the climate system is clear", and that evidence of anthropogenic climate change is found in most regions of the globe. Qin Dahe, the co-chair of Working Group 1, which has assessed research relating to the science of climate change, says the scientific evidence for anthropogenic climate change has strengthened year by year, leaving "fewer uncertainties about the consequences of inaction".
Tom Stocker, also co-chair of WG1, says: "Continued emissions of greenhouse gases will cause further warming and changes in all components of the climate system and limiting climate change will require substantial and sustained reductions of greenhouse gas emissions. As a result of our past, present and expected future emissions of carbon dioxide, we are committed to climate change, and effects will persist for many centuries even if emissions of carbon dioxide stop."
In summary, the report says that a warming of the climate system is unequivocal, and since the 1950s, many of the observed changes are unprecedented over decades to millennia. Both the atmosphere and ocean have warmed, the amounts of snow and ice have diminished, sea level has risen, and the concentrations of greenhouse gases continue to increase. Each of the last three decades has been successively warmer at the Earth's surface than any preceding decade since 1850.
You can find more details in the IPCC release (pdf) and a summary of headline statements (pdf), and comments from climate scientists here. For an overview of the evolution of the IPCC, you will find an infographic and video in Nature's 25 years of the IPCC.