Our Changing World for Thursday 25 July 2013
Cook Strait Earthquake Sequence Update
Geologists are hard at work this week trying to unravel the earthquake sequence which began last Friday, and by this morning had produced nearly 1400 quakes in the Cook Strait region, with a maximum shake of 6.5 on Sunday 21 July. GNS Science reported yesterday that using information from Geonet's permanent GPS stations, seismologists have calculated that the undersea fault rupture was 19 kilometres long. It ran in a northeast- to southwest direction, coming to within 6 kilometres of the coast at Clifford Bay. The rupture plane was nearly vertical, and was between 6 to 18 kilometres below the seabed. What is not clear is exactly which of the many faults in the area has ruptured.
In an effort to see if there's any evidence visible on the seafloor that would help answer that question, NIWA's research vessel Tangaroa was yesterday diverted to the area – and Alison Ballance catches up with NIWA marine geologist Philip Barnes to find out more.
SOFIA telescope explores southern skies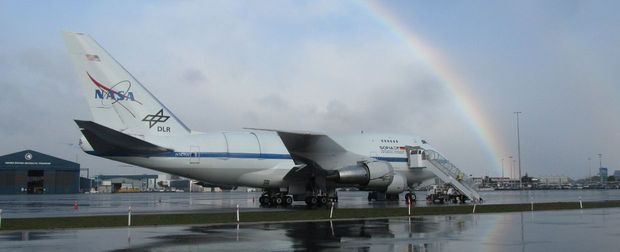 The modified SOFIA aircraft, which carries the telescope inside the large opening in its side, at Christchurch airport  (image: NASA/USRA)
Astronomers, technicians and engineers from the United States and Germany have gathered in Christchurch to take part in a series of flights aboard a modified aircraft that carries the world's largest airborne observatory.
SOFIA, which stands for the Stratospheric Observatory for Infrared Astronomy, has been deployed to Christchurch to study space objects that are best observed from the Southern Hemisphere. A joint project between NASA and the German Aerospace Center DLR (Deutsches Zentrum für Luft- und Raumfahrt), SOFIA carries a 2.5-metre telescope in a modified Boeing 747 special-performance aircraft. The plane flies at altitudes as high as 13,700 meters to provide access to astronomical signals at far-infrared wavelengths that would otherwise be blocked because water vapour in the atmosphere absorbs in the infrared spectrum.
During the southern flights, the telescope carries a spectrometer called GREAT, or the German Receiver for Astronomy at Terahertz Frequencies (right), which has already been used on missions in the Northern Hemisphere where it has helped astronomers to observe the formation of a star and to detect new molecules in space.
The scientific targets for SOFIA's southern deployment include objects in the central regions of the Milky Way, which are much more accessible from the Southern Hemisphere, and the Large and Small Magellanic Clouds, which are easily visible with the naked eye in the southern sky. Their relative proximity allows the detailed investigation of stellar life cycles, from protostars to supernova remnants. 
SOFIA has already flown the first of nine planned missions last week, exploring the Magellanic Clouds and the disk of dust and gas orbiting the black hole in the centre of our galaxy.

Some targets of astronomical interest are only visible from the Southern Hemisphere. This image of the southern sky, taken at Cerro Paranal in the Chilean Atacama Desert, shows a total of three galaxies: our Milky Way and the two Magellanic Clouds. (image: ESO/Y. Beletsky)
Census at School

Students at Kapiti College collect information on arm span and finger length for the 2013 Census at School (images: A. Ballance)
Census at School is an international exercise that takes place in New Zealand every two years. This year, almost 20,000 year 5 to 13 students from nearly 600 schools have taken part in the online data collection.
To find out how Census at School works Alison Ballance heads to Kapiti College, north of Wellington, to join head of maths Nichola Coe and a year 9 maths class as they collect data for the census. She also talks with Census at School co-organisers Rachel Cunliffe and Chris Wild from the University of Auckland about why it is important to understand data and statistics, and to hear about some of the interesting preliminary findings from this year's census. You can hear more about this year's findings from this interview of Rachel Cunliffe by Kathryn Ryan on Nine to Noon.

Students at Kapiti College collect information on neck circumference, and enter data online on their laptops (images: A. Ballance)
Expressive writing and health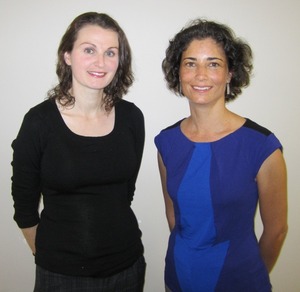 Popular culture abounds with examples of how writing can improve physical and mental health, using it as a form of therapy. Studies of expressive writing have shown that there is real merit to writing about your deepest thoughts and feelings, and Ruth Beran meets with Elizabeth Broadbent, a health psychologist at the University of Auckland and Iris Fontanilla, a health psychologist with the Auckland District Health Board to speak about their research.
Both used the writing paradigm designed by James Pennebaker from the University of Austin, Texas where participants are told to write for three or four consecutive days for 20 minute a day either on their deepest thoughts and emotions or a control topic, such as time management.
Elizabeth Broadbent and Heidi Koschwanez (right) looked specifically at wound healing in a population aged over 64, and found that there was improved wound healing in the expressive writing group. This study was recently published in Psychosomatic Medicine.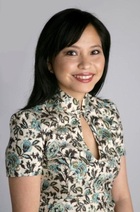 Iris Fontanilla's (left) study looked at a population of patients with HIV and found that those who wrote about traumatic events showed an increase in their CD4+ lymphocyte count indicating improved immune response. This study was also published in Psychosomatic Medicine.
While Pennebaker's paradigm does not really include creative writing, members of a small writing group that meets every Thursday evening in the café at the Wellington Central Library appear to gain benefit from creative writing. In particular, Richard Anderson is writing about his experiences of mental illness and finds that writing is a form of therapy for him. Ruth Beran went along to one of the group's meetings to hear some of the writing being read aloud.