Our Changing World for Thursday 29 November 2012
2012 Prime Minister's Science Prize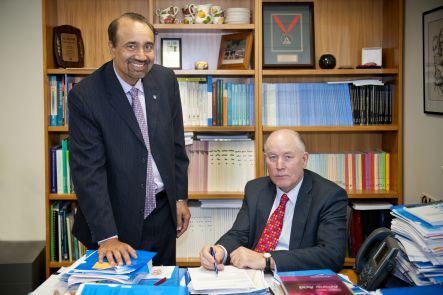 Harjinder Singh, at left, and Paul Moughan joined forces more than a decade ago to establish the Riddet Institute.
This week, the 2012 Prime Minister's Science Prize winners were announced at an awards ceremony in Wellington. The PM's Science Prize, worth $500,000, went to the co-directors of the Riddet Institute, Paul Moughan and Harjinder Singh, whose long-standing collaboration has focused on studying the role of proteins in foods.
Harjinder Singh's expertise is in food protein structures, how proteins change during food processing and how they interact in food systems. Paul Moughan's work focuses on how proteins are broken down and absorbed in the digestive system and the resulting physiological benefits. Examples of research results they achieved as a team include a highly effective probiotic, ProBioLife, and the technology that allows high doses of Omega-3 fatty acids derived from fish oil to be added to food products without a fishy smell and taste. Fonterra has commercialised a number of products and processes that build on the team's work and the pair have worked with ZESPRI staff to help position kiwifruit as both a great tasting and healthy fruit.
The Riddet Institute is one of New Zealand's Centres of Research Excellence. Hosted by Massey University in Palmerston North, the institute has established Riddet Foodlink, a network of more than 100 companies interested in food innovation and research. The technology that allows Omega-3 fatty acids to be encapsulated and included in other foods is being sold in Europe by Riddet Institute spin-out company Speirs Nutritionals.
Congratulations to all other winners:
Shaun Hendy, a theoretical physicist at Victoria University and an Industry and Outreach Fellow at Industrial Research, has been awarded the PM's Science Media Communication Prize ($100,000) for his commentary on the links between science and technology and economic prosperity.
James Russell at the University of Auckland won the PM's MacDiarmid Emerging Scientist Prize ($200,000) for his innovative combination of ecology, statistics and genetics to stop rats and other mammalian pests invading predator-free islands.
Papatoetoe High School teacher Peter Stewart won the PM's Science Teacher Award ($50,000 for himself, $100,000 for the school) for his inspirational approach to teaching, and St Cuthbert's College student Hannah Ng won the PM's Future Scientist Prize ($50,000) for outstanding achievement in carrying out a practical and innovative research or technology project.
Needle-free Jet Injections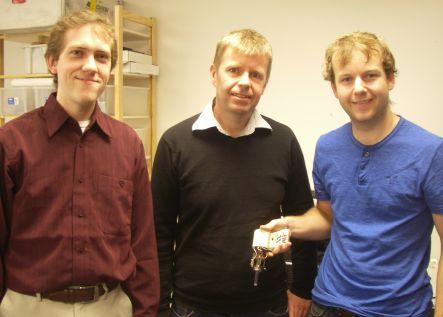 Bryan Ruddy (left), Andrew Taberner (centre) and Rhys Williams are working to develop a needle-free jet injection system - Rhys is holding their current prototype (image: A. Ballance)
Injections and modern medicine go hand-in-hand, and that's a thought that fills many needle-phobic people with terror. But what if there was a way of getting an injection that was super-fast, pain-free, and didn't actually involve any needles? That's the goal of a University of Auckland and a Massachusetts Institute of Technology (MIT) collaboration, which is developing an innovative needle-free jet injection system they hope will revolutionise administering drugs to both humans and animals.
Alison Ballance heads to the Auckland Bioengineering Institute to meet the Kiwi-half of the collaboration, led by Andrew Taberner. Andrew is a Senior Research Fellow at the Auckland Bioengineering Institute and Senior Lecturer in the Department of Engineering Science at Auckland University, and he collaborates at the New Zealand end with post-doctoral fellow Bryan Ruddy, recently graduated from MIT, and PhD student Rhys Williams.
The collaboration came about because Ian Hunter, the George N. Hatsopoulos Professor of Mechanical Engineering at MIT, is an expatriate New Zealander, and Andrew Taberner began the project while working at MIT.
Immature Brain Cells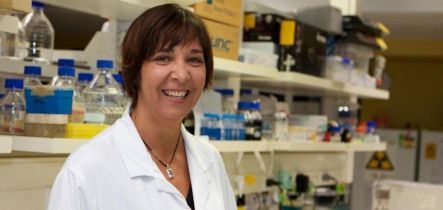 At the University of Auckland's Centre for Brain Research, a team has successfully converted human skin cells directly into immature brain cells. Skin cells are easy to obtain, and unlike embryonic stem cells, are an ethically acceptable way of creating new cells.
Bronwen Connor (above), who heads the Neural Repair and Neurogenesis Laboratory, explains to Ruth Beran that there are three unique features of the research. Firstly, hers is the only group to have used adult human skin cells to create neural precursor cells, other groups have used animal cells. This means researchers can take skin cells from patients suffering neurological disease and create brain cells which are affected by the disease and study them. In the future, they could also be put back into the patient for replacement therapy.
Secondly, the neural precursor cells are created using only two genes, SOX2 and PAX6, while other groups have used between five and 11 genes.
Thirdly, the group used two different methods to create the cells, plasmid transfection and protein transduction, while most other groups use viral vectors, a process which uses a virus, takes out all the disease causing parts and in its place puts the gene of interest.  These viruses can cause insertional mutations which is a problem for therapy. The techniques used by Bronwen Connor's group are not only safer but also quicker than converting the skin cells to embryonic cells and then to neural precursor cells, which takes four months. Instead, the process takes only 1.5 months or 20 days depending on the technology used.
National New Zealand Flax Collection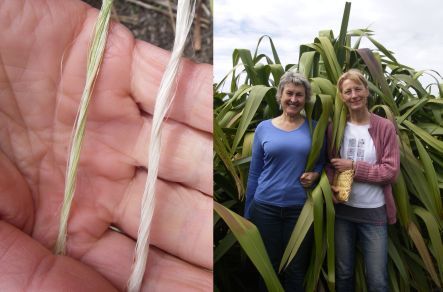 The muka or fibre in New Zealand flax leaves can be twisted into a fine but strong yarn (left). Sue Scheele and Katarina Tawiri stand next to one of more than 60 cultivars of harakeke growing in the New Zealand flax collection at Lincoln (images: A. Ballance)
In the 1960s Renee Orchiston began collecting and growing different cultivars of harakeke, or New Zealand flax, that were important to Maori weavers. That collection was gifted to the then-DSIR Botany Division in the 1980s, and now forms the basis of the National New Zealand Flax Collection, which is managed by Landcare Research on its Lincoln campus.
Flax is a very useful and versatile plant – its leaves can be plaited to make kete or woven bags, while the long strong fibres, or muka, can be extracted and used as a yarn for weaving cloaks. Alison Ballance joins ethno-botanist Sue Scheele and curator Katarina Tawiri to find out more about the harakeke collection, and the traits that make flax a desirable weaving plant.
Next week, we feature a story about conservation chemistry, and how it is helping save old weavings made from harakeke that suffer from a deterioration known as 'vinegar syndrome'.