Our Changing World for Thursday 27 September 2012
Biomechanics of the Gut part 1
When we talk about unexplored frontiers we think about space or the deep ocean. But what about our own digestive system? It's only in the last ten years that work by Massey University physiologist Roger Lentle has begun to shed light on the physical processses that take place within the gut, and Alison Ballance heads to Palmerston North to find out more. Roger and his lab collaborators have developed an innovative technique called spatio-temporal mapping – a section of living gut is filmed in high-definition as it is fed a special paste, and the resulting footage is analysed to show how the gut muscles expand and contract in what Roger describes as a 'higgledy piggledy' motion to squeeze and churn digesta as it passes through the small and large intestines.
We'll hear from Roger Lentle next week with revelations about the gut wall and how it absorbs nutrients. Roger has co-authored a book about our latest understanding of the Physical Processes of Digestion.
Sweet Potato Complementary Food
Image: Front row (left to right): Frederick, Fedora and Frederica Amagloh. Back row (left to right): Francis Kweku Amagloh and Jane Coad.
Weaning or complementary feeding is when a baby makes the transition from exclusive breastfeeding to other sources of nourishment. The transition typically covers the period from 6 months to up two years of age, and is a very vulnerable time.
It is at this point that malnutrition starts in many infants, and this is something that PhD student Francis Amagloh has observed in his home country of Ghana. He has developed a new complementary food for babies made from orange sweet potato. He chose sweet potato because it is high in beta carotene (to provide Vitamin A) and low in phytate. Phytate inhibits iron absorption, so unlike the alternative Weanimix complimentary food, phytase does not need to be added. The sweet potato complimentary food also needs far less water to cook than the alternative Weanimix, and has more Vitamin C, so it provides more nutritional value.
To see the weaning food being cooked, Ruth Beran meets Francis Amagloh and his supervisor Jane Coad at Massey University in Palmerston North.
Francis' Commonwealth PhD scholarship was funded by the New Zealand International Aid and Development Agency (NZAID). The Nutricia Research Foundation also provided funds for his research.
New Zealand's Nuclear History
Science writer and historian Rebecca Priestley.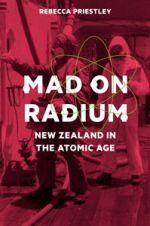 New Zealand is well known around the world for its nuclear-free stance. But just a few decades ago, the excitement about the atomic age was as strong here as in many other nations. In her new book, Mad on Radium, science historian Rebecca Priestley reveals the story of a nuclear New Zealand, from radioactive water therapy at the Rotorua Bathhouse to uranium prospecting on the West Coast and plans for a nuclear power station on the Kaipara Harbour.
She writes that in the 1950s New Zealanders were enthusiastic about the discovery of uranium in the Buller Gorge and that the government at the time supported uranium prospecting in the hope of establishing a uranium-mining and exporting industry. Scientists, medical researchers and the public continued to embrace nuclear technology well into the 1970s, and the decisions not to mine uranium and not to build a nuclear power station were economic, not ideological. Today, New Zealand's policy is against nuclear power and prohibits prospecting for uranium, and Mad on Radium contrasts 20th-century nuclear enthusiasm with current attitudes to things nuclear.
Treating Tinnitus with Brain Stimulation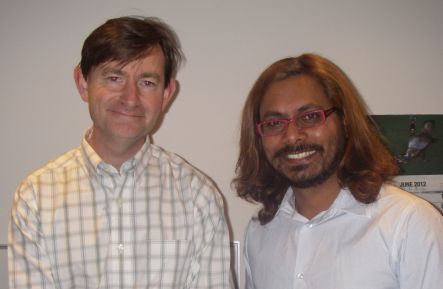 Grant Searchfield and Giriraj Shekhawat (image: A. Ballance)
Tinnitus is the perception of noise when there is no external sound. About 10% of New Zealanders suffer from tinnitus, and people with tinnitus describe it variously as ringing in the ears, buzzing, hissing, roaring screeching or whooshing.
While tinnitus can't be cured it can be managed and Alison Ballance heads to the Department of Audiology at the University of Auckland to meet PhD student Giriraj Shekhawat, who is trialling a new treatment, combining transcranial direct stimulation, which has immediate short-term benefits for tinnitus, with digital hearing aids which provide a slower longer-term treatment. His supervisor is Grant Searchfield, head of the Department of Audiology at the University of Auckland, and Grant talks about the work of the Hearing and Tinnitus Clinic, and some of the other new approaches using drugs and computer-based aids to retrain the brain to ignore tinnitus. Alison also meets Bill Nagle, who works at the university and is one of the volunteers in the transcranial direct stimulation study. The final data collection will be undertaken over the next few weeks and Giriraj hopes to have the results of his study by the end of the year.
Giriraj recently won best Applied and Clinical Science oral presentation talking about his PhD research at the University of Auckland's Faculty of Medicine and Health Sciences conference HealthEx 2012.
Mystery Sound
The 11th mystery sound is an ice auger drilling into the sea ice in McMurdo Sound, Antarctica, to ensure it is thick enough to safely drive over. Head to our Antarctic library for the full ice immersion.