Our Changing World for Thursday 5 April 2012
9:46 PM.The award-winning Southland community nursery and its keen volunteers grow thousands of native plants each year Read more Audio

9:06 PM.Functional MRI scanners give insights into how the human brain remembers memories Audio
Reading Your Mind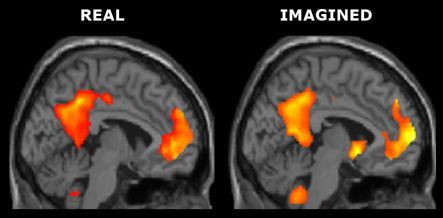 The images in this functional MRI scan of brain activity show the differences between recall of a genuine memory and an invented one.
There are scientists who want to read your mind, and with the aid of an advanced functional MRI scanner, they're getting closer to actually achieving it. Functional Magnetic Resonance Imaging creates a picture of the brain that allows scientists to see different areas light up as we think, move, remember, and even tell lies. Brett Cowan from the Centre for Advanced MRI and cognitive neuroscientist Donna Rose Addis from the University of Auckland demonstrated the potential, and the limitations, of this technology at a recent event called 'Mind Reading? – The Science of Imaging the Brain'. They show Justin Gregory how they used scans of the brain of a volunteer and attempted to tell the difference between a genuine memory and a made-up lie.
Southland Community Nursery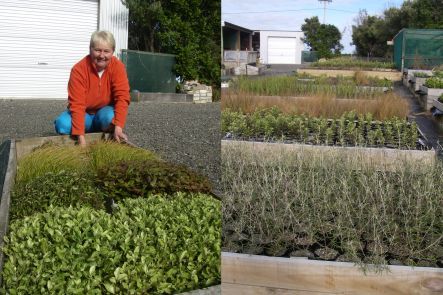 Chris Rance with plants grown from seed and from cuttings - the Southland community nursery grows thousands of plants each year for use in replanting projects (images: A. Ballance)
When botanists Brian and Chris Rance began growing native plants for their own garden 15 years ago they little realised that they had set in motion an award-winning community nursery that has inspired volunteers and produced thousands of plants for revegetation projects around Southland. The Southland community nursery has won many awards, including the New Zealand Native Plant Conservation Network 'Plant Nursery Involved in Plant Conservation' award in 2011 for its unique approach to the growth, preservation and education of the public about native plant species. They also won the Supreme Award at the TrustPower Invercargill Southland Community Awards in 2009. Alison Ballance visits the nursery to meet Chris Rance, keen volunteer Linda Jackson, and a few of the many native plants that the nursery grows each year.
An area of coastal wetland forest on Chris and Brian Rance's Otatara proerty has been enhanced with a wetland revegatation project. The bush and wetland are protected with a QE 2 covenant (images: A. Ballance)