Our Changing World for Thursday 29 March 2012
Professor Sir Paul Callaghan - A Tribute
The Our Changing World team would like to pay its respects to Sir Paul, who died on Saturday 24 March. A renowned scientist, innovator and science communicator, Sir Paul always made the time to provide comment or background on science issues as well as his broader vision for the role science could and should play in New Zealand. His passion for science was contagious and he never tired of promoting the work of his students and colleagues at the MacDiarmid Institute for Advanced Materials and Nanotechnology. His research earned him many accolades, including the Rutherford Medal in 2005, New Zealand's highest scientific honour, and the international Ampere prize in 2009. In 2011, he was also named New Zealander of the Year for his leadership as a scientist, teacher and science communicator. Sir Paul was a regular guest on Radio New Zealand National programmes, including Our Changing World, and a selection of interviews from our online archive is available here in recognition of this contribution and far-reaching influence. In the interview on this week's programme, Sir Paul looks back at his childhood and early influences that inspired him to become a physicist.
Apple Bioactives
Nutrigenomics New Zealand is a joint project between Plant and Food Research, Agresearch and the University of Auckland that aims to develop targeted foods or groups of foods to prevent, ameliorate or cure inflammatory diseases, with a special emphasis on inflammatory bowel disease. Alison Ballance meets with Plant and Food Research's Nigel Perry, Elaine Burgess and summer student Jermy Lei to find out whether the old saying 'an apple a day keeps the doctor away' has any validity.
Waituna Lagoon – Part 3: water quality monitoring

Karl Ericson measuring water flow in a small stream running through a Department of Conservation wetland - this is the only pristine water quality monitoring site in the Waituna catchment (images: A. Ballance)
In this third part of a series focusing on water quality issues around Waituna Lagoon, we join a water quality monitoring team from Environment Southland on one of their regular stream monitoring trips in the south of the catchment. Environment Southland carries out long term 'state of the environment' monitoring on surface water and groundwater in the Waituna catchment as well as in the lagoon itself. Alison Ballance joins water quality scientist Kirsten Meijer and senior environmental technical officer Karl Ericson as they measure water flow, and collect samples that will help give a long-term picture of nutrients and sediment input into the lagoon.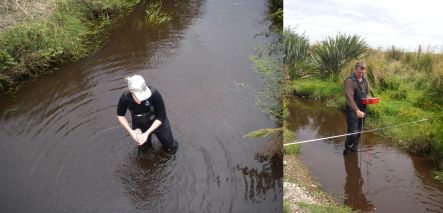 Kirsten Meijer collects water samples from the Carran Stream, and Karl Ericson measures water flow in a stream that has had its riparian strip fenced off (images: A. Ballance)
Our Far South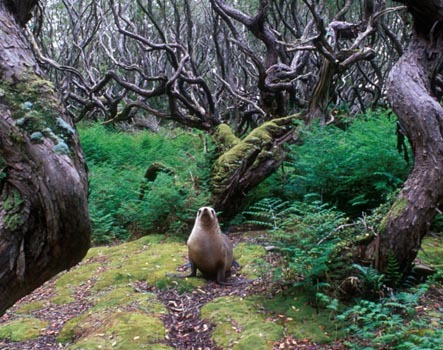 A sea lion rests in a stunted rata forest on Enderby Island, in the Auckland Island group. (image: A Reisinger)
Earlier this month, the Russian ice breaker Spirit of Enderby returned from a month-long voyage to the subantarctic islands and Antarctica. The main goals of the Our Far South expedition are to raise awareness of the importance of the area between Foveaux Strait and the South Pole and to highlight some of the issues that affect this region, including climate change, biodiversity protection, fishing and territorial claims. The voyage had a strong contingent of scientists, who travelled south to share their knowledge of the area. They also had a chance to do some science en route, including the deployment of Argo floats and the collection of sediment cores from several sites. In this feature, Lionel Carter and Dan Zwartz, who are both at Victoria University's Antarctic Research Centre, explain how the Southern Ocean and Antarctica drive climate change as well as being affected by it. Victor Anderlini, the chairman of the Island Bay Marine Education Centre, reflects on his long-standing involvement in education focused on marine ecosystems.