Our Changing World for Thursday 26 January 2012
Nelson's Boulder Bank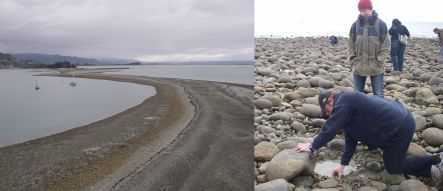 The boulder bank seen at low tide from the top of the lighthouse, looking towards The Cut, and Neil Hartshorn digs among the various sized rocks on the gravel platform (imagea: A. Ballance)
Nelson's boulder bank is a distinctive geological barrier sheltering Nelson Haven from Tasman Bay. Ever since Ferdinand von Hochstetter in the 1860s geologists have debated how the 13-kilometre long boulder barrier was formed. One of the field trips 2011 Geoscience Society annual conference in Nelson involved a visit to the boulder bank and nearby Cable Bay, which has its unique boulder barrier, to view the features of the barriers and discuss their formation. Trip leader Warren Dickinson from the Antarctic Research Centre at Victoria University was joined by Neil Hartstein, who carried out research for his Master's degree on both features.
The explanation accepted by most geologists, such as local Nelsonian Mike Johnston, is that longshore drift has created the boulder bank, with waves gradually moving rocks from their source at Mackay's Bluff. Warren and Neil, however, explain why they have difficulty accepting this explanation, as Alison Ballance finds out.
Local author Karen Warren has written about the controversy in her book Rolling Stones: Nelson's Boulder Bank – It's Place in Our History and Hearts (Nikau Press 2009), and she was along on the field trip.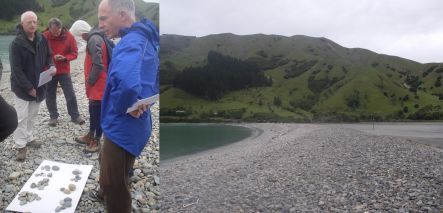 Warren Dickinson and field trip participants sort gravel by roundness, and Cable Bay's boulder barrier with Pepin Island in the background (images: A. Ballance)
Blue Penguin Conservation on the West Coast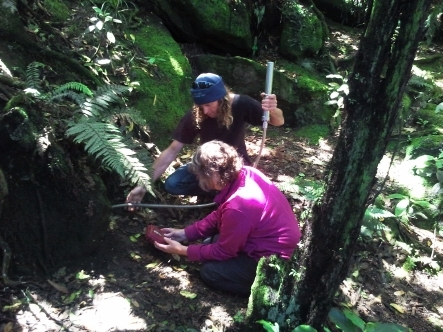 West Coast Blue Penguin Trust chairperson Kerry-Jayne Wilson, in front, and ranger Reuben Lane insert a burrow-scope into a penguin home to monitor near-fledgling chicks. (image: V Meduna)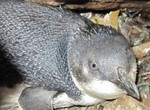 At about one kilogram and 40 centimetres in height, blue penguins are the world's smallest penguins. They breed in many coastal areas throughout New Zealand and Australia and are a protected native species, but their numbers are declining. In most places, the main threat comes from introduced predators, but along the West Coast, people and their cars are the biggest problem.
Over the last five years, more than 100 blue penguins have been killed by vehicles on West Coast roads, particularly along stretches where State Highway 6 runs close to the beach. The West Coast Blue Penguin Trust has been trapping predators in areas with known penguin colonies, but ongoing monitoring has shown that traffic and dogs, and to a lesser degree coastal development, are bigger threats than stoats. Trust chairperson Kerry-Jayne Wilson and ranger Reuben Lane discuss the impact traffic has on small, scattered colonies, and how a penguin-proof fence could turn some into thriving populations.
Meanwhile, the trust has also installed a sound system broadcasting blue penguin and sooty shearwater calls near Cape Foulwind, in the hope of attracting more of the seabirds to the area.
Fluttering Shearwaters on Matiu-Somes Island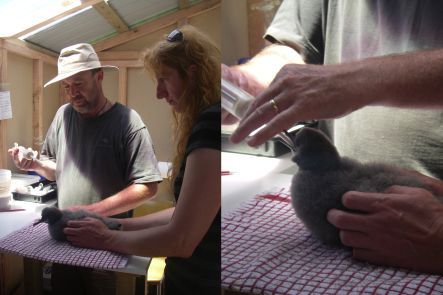 Shane Cotter and Helen Gummer feeding a fluttering shearwater chick a sardine smoothie (images: A. Ballance)
Over the last 40 years a huge community effort has transformed Matiu-Somes Island in the middle of Wellington Harbour from bare paddocks to a thriving forest. A number of rare animals, such as red-crowned parakeets and tuatara, have been reintroduced to the island, and they have been joined by 80 fluttering shearwater chicks. The shearwater translocation has been organized by the Matiu-Somes Restoration Trust in an effort to return seabirds to the island, and Alison Ballance joins Shane Cotter and his team of volunteers on the island to find out more.
The chicks have been placed in specially made burrows, and are being fed daily sardine smoothies. When they are large enough to fledge they will leave the island for up to four years, then hopefully they will return to begin breeding.
Our Changing World has featured several stories about Matiu-Somes Island. Shane Cotter's father Reg featured in this story about little blue penguins on the island, and Peter Russell has talked about weeds on the island.
This transfer is modelled on a successful fluttering shearwater translocation to Mana Island - this work featured in an earlier Our Changing World story.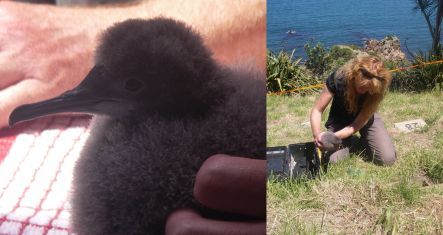 Fluttering shearwater chick, left, and Helen Gummer returning a chick to its artificial burrow at the south end of Matiu-Somes Island (images: A. Ballance)