Our Changing World for Thursday 13 October 2011
Robots at the Fuel Pump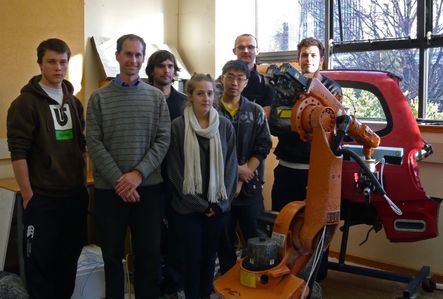 The fuel robot and friends, from left to right, Andrew Lewis, Chris Hann, Julian Pipe, Kirstin Middelkoop, Jermin Tiu, Duncan Scott and Samuel Sanson (image: V Meduna)
A group of University of Canterbury mechatronics students, pictured above with their supervisor Chris Hann, have designed a prototype for a robot that can refuel a car at the push of a button, allowing drivers to control everything from inside their car. There have been some trials of automated fuel pumps in Europe, but this six-jointed industrial robotic arm can be fitted to an existing pump. This video was produced by the group to demonstrate how the robot goes about its job.
Torrefaction and Energy-Dense Wood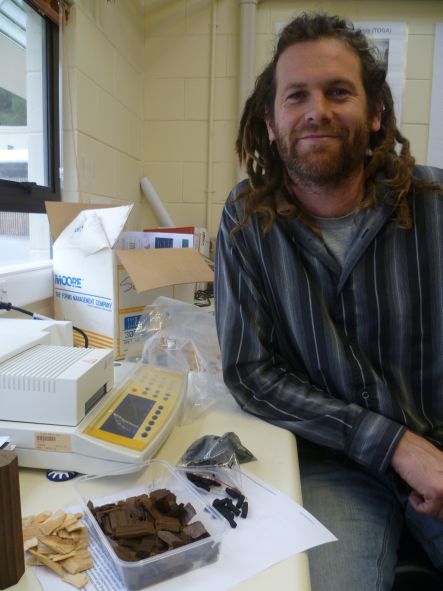 George Escourt, with samples of woody biomass - the light brown chips in the middle have been through the torrefaction process (image: A. Ballance)
Torrefaction is a form of pyrolysis, which involves heating wood in the absence of oxygen. This effectively 'dries' the wood and then changes its structure to make it more energy-dense, creating a fuel that is more equivalent to coal, and could be used alongside coal in facilities such as coal-fired power stations. George Escourt from Scion in Rotorua has been working at a lab bench scale to torrefy waste Pinus radiata, to work out which combination of heat and time produces what kind of end result. Alison Ballance meets him in the lab to find out more.
Sex Lives of Praying Mantises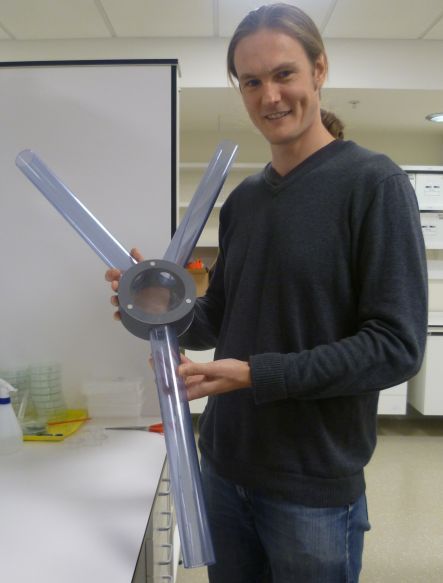 Greg Holwell holding a y-tube olfactometer, which was used to determine which female praying mantises were most attractive to a male native praying mantis (image: A. Ballance)
University of Auckland entomologist Greg Holwell is passionate about praying mantises, even though there are only two species in New Zealand for him to work on – a native species and a recently introduced South African species, which is sometimes referred to as the 'springbok mantis'. He tells Alison Ballance how to identify the two species, and then regales her with tales of sexual cannabilism and fatal attractions – fatal, that is, for male New Zealand praying mantises.
The Spartina Grass Problem – Web-Only Feature
Donald Strong is a professor in the Section of Ecology and Evolution at the University of California, Davis, USA. He was in New Zealand recently as a guest speaker at the annual conference of the New Zealand Ecological Society, held in Rotorua. He spoke about the invasive coastal weed spartina, which has been a problem in some parts of New Zealand, and is also a major problem along the coasts of the United States and China. He talks with Alison Ballance about its ecology and its ability to hybridise, explains why it was introduced and why it becomes a problem. He also mentions that ground-breaking work in New Zealand using herbicides to control spartina, which is a total control plant pest in some regions, has now been adopted in other countries.
Able-X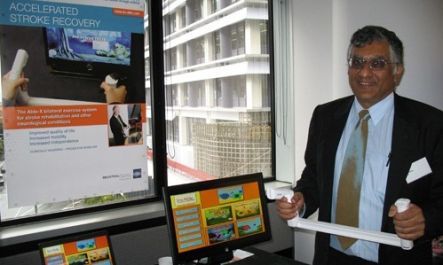 I'm Able chief executive Sunil Vather holding an Able-X device
Of the estimated 45,000 stroke survivors in New Zealand, many are disabled. Often stroke will affect one side of the body, and a device called Able-X, has been designed here in New Zealand, to help people exercise their disabled arm, particularly after having a stroke.
IRL engineer Marcus King designed Able-X and Ruth Beran meets him at Te Papa Tongarewa, along with Sunil Vather, the chief executive of the company I'm Able that is commercialising the device. Stroke survivor Leslie Austin also explains why he uses the device in his home, and how much fun it is to use.
To see a video on what Marcus King's Assistive Devices Team at IRL are planning next, click here.