Our Changing World for Thursday 29 September 2011
Kokako Translocation
The Waitakere Ranges Regional Park in Auckland is home to the Ark in The Park restoration project. For eight years Forest and Bird, the Auckland Council (previously the Auckland Regional Council) and hundreds of volunteers have worked to restore native ecosystems by removing pests and reintroducing native species. One of those species is the endangered North Island kokako. Once quite common, they now exist only in pockets of forest across the North Island, and their reintroduction into the Waitakeres is part of the Kokako Recovery Plan run by the Department of Conservation.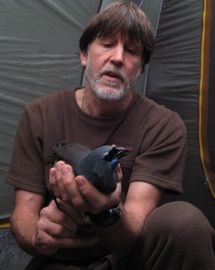 Justin Gregory travelled to Waipapa in the Pureora Forest of the central North Island to join a group of conservationists trying to catch kokako for the relocation.
Paul Jansen (left) holds a North Island kokako (Callaeas cinerea) in preparation for relocating it from its home in Pureora Forest to the Waitakere Ranges. Before release, each bird will be fitted with unique coloured and numbered leg bands and a radio transmitter.
Sex Secrets of a Killer Yeast
From left to right: Geoff Jones, Ningxin Zhang and Jan Schmid pointing at an agar plate containing a dye that allows detection of Candida colonies that have spontaneously become mating-competent. (Image: Ann Truter)
The yeast Candida albicans is present in most humans as a harmless coloniser but it can turn into a deadly pathogen. Jan Schmid and Ningxin Zhang from Massey University's IMBS BioMedical Research group are investigating whether the fungal pathogen gave up sex in order to be able to live on humans, and have found that mating actually provides no obvious benefit for Candida albicans. This research has received a Marsden grant, and also involves University of Otago's Richard Cannon, University of Tasmania's Barbara Holland, and Murray Cox, also from Massey University.
In another study, the team of researchers has been found that some genotypes of Candida albicans are more lethal than others. Massey University statistician Geoff Jones statistically analysed results from samples collected from over 600 patients by two European research consortia, which were then PCR tested. The team showed that young patients infected with the so-called Candida GPG genotype were more likely to die than those infected with other strains. A practical application of this result is that the PCR assay could identify patients at high risk of dying from Candida infection in advance and therefore, potentially save lives.
Evolution of Complex Life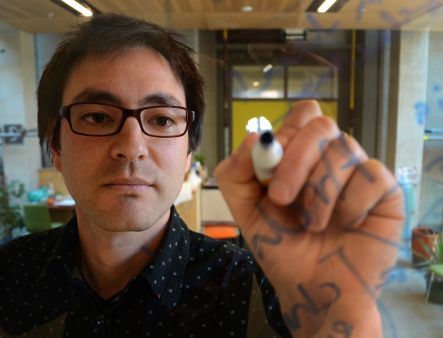 University of Canterbury geneticist Anthony Poole hopes to work out how complex life has evolved. (Image: University of Canterbury)
Ever since Charles Darwin published On The Origin of Species some 150 years ago, evolution has generally been viewed as a sequence of incremental improvements, with natural selection as the main driver of the evolutionary process. However, modern genetic methods that have allowed biologists to sequence the genetic code of many species have shown that most DNA is non-coding, i.e. it doesn't carry genes and hence its sequence cannot be translated into proteins. Anthony Poole, a geneticist at the University of Canterbury, explains that this has prompted some rethinking about drivers of evolution and a recognition that there are other mechanism at play. He argues that complex life forms may not be a direct outcome of natural selection but rather a mere by-product of the evolutionary process. Poole is one of this year's recipients of a Rutherford Discovery Fellowship and he discusses his research, which combines computational with experimental approaches and aims to elucidate how complex molecular and cellular systems have evolved.
Green Processing – Biofuels from Waste Pine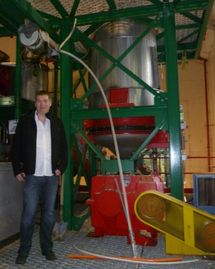 2011 is the International Year of Forests, so it's very timely to hear about some of the work being carried out by Scion, one of New Zealand's 8 Crown Research Institutes. Based in Rotorua, Scion focuses on forestry, and on wood and other biomaterials. We'll be looking at a few Scion projects over the next few weeks, but this week we hear about the potential for producing biofuels from waste timber. Alison Ballance joins Michael Jack at Scion's pilot plant (right) to hear about some of the challenges of extracting sugars from softwoods such as Pinus radiata. Michael is team leader for Scion's green processing research.