Our Changing World for Thursday 17 March 2011
Latest Insights into the Geophysics of the Canterbury Earthquakes
Recent events in New Zealand and Japan have focused the world's attention on earthquakes, and New Zealand seismologists and geophysicists have been busy collecting evidence on the ground in Christchurch and surrounding areas in an effort to understand more about the recent Canterbury earthquakes. Both the magnitude 7.1 Darfield earthquake last September and the magnitude 6.3 Christchurch earthquake just over three weeks ago were far more damaging than expected from their magnitude alone, and GNS seismologists Martin Reyners and Bill Fry talk with Alison Ballance about why this was so. They discuss the moment magnitude scale as well as the energy magnitude scale, and explain why peak ground acceleration was so high, particularly vertically. They also explain why the magnitude 9 earthquake in Japan was such a different kind of earthquake.
The Prime Minister's Chief Science Advisor and the Royal Society of New Zealand yesterday released an information paper on earthquake prediction and future earthquake risks for New Zealand. The paper includes graphs which illustrate the horizontal and vertical peak ground acceleration effects that Martin Reyners and Bill Fry discuss.
Byfusion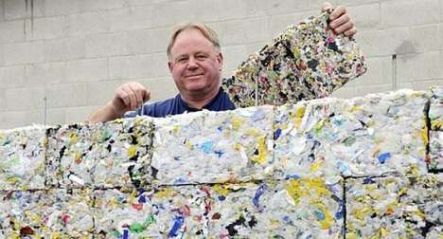 Peter Lewis with a wall made from Byfusion bricks
By turning waste plastic into bricks, entrepreneur Peter Lewis believes the Byfusion process could solve New Zealand's plastic waste problem. Unsorted domestic plastic waste is shredded, cleaned, and fused together to make 6.5kg blocks which can be stacked to make walls or crash barriers. Last year, Ruth Beran visited the pilot plant located at Dunedin's Green Island landfill to see how the bricks are created.
Electrospinning Hoki Skin
Scientist Jon Stanger and photographer Robert Lamberts collaborated to produce this image of hoki collagen being electrospun into nanofibres (image: Plant & Food Research)
The hoki fishery is New Zealand's largest commercial fishery, and the total quota for the 2010-11 season is 120,000 tonnes. About 40% of that ends up as by-products such as skin, and scientists at Plant and Food Research in Nelson have been investigating ways of turning that low-value product into high value goods. Fish skin is made up of marine collagen, and Kathleen Hofman and Susan Marshall tell Alison Ballance about the particular properties of marine collagen, and show her an electrospinning machine that turns collagen from fish skin into nanofibres that can be used, for example, as filters in home ventilation systems.
You can listen here to a previous Our Changing World interview with Susan Marshall and Matt Miller from Plant and Food Research's Natural Extracts team about other work to identify novel high-value uses for molecules found in fish waste, such as Omega 3 and industrial enzymes.
Shock Testing Equipment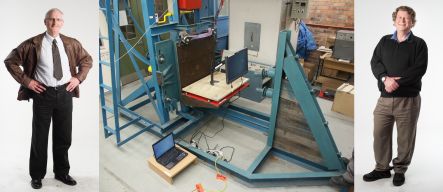 From left to right: Cliver Stirling, shock testing machine, and Terry Palmer (images: IRL)
IRL's Clive Stirling and Terry Palmer conduct shock testing at a facility in Parnell, Auckland for clients like the Royal New Zealand Navy. The facility tests systems and equipment aboard naval vessels which need to withstand the force of an explosion if they happen to be attacked during a war.
The lightweight, high-impact shock testing machine tests equipment weighing up to 150kg to resist shock loading in three axes and can evaluate commercial off-the-shelf and custom-built equipment. It was originally built to test items for the ANZAC Frigate Project in the 1990s and has tested computers, LCD screens, data/media converters and pedestal chairs, communications equipment cabinets and emergency escape breathing apparatus stowage racks. Ruth Beran visits the facility and sees the machine in action.