Our Changing World for Thursday 10 March 2011
Zoonoses

Anne Midwinter, Nigel French, and Anthony Pita, and a plate with campylobacter growing on it.
Zoonoses are human diseases that come from animals. Determining the source of these diseases and how they spread is important for preventing outbreaks.
At the Molecular Epidemiology and Public Health Laboratory at Massey University in Palmerston North, Nigel French and his team are identifying and tracing zoonoses. He takes Ruth Beran on a tour of the lab to meet Anne Midwinter, Will Clayton and Anthony Pita, and to see how human and animal samples are analysed for bacteria (such as Campylobacter, Leptospira, E-coli, Salmonella) and protozoa (such as Cryptosporidium and Giardia). Using techniques ranging from microbiology (culturing and isolation) to analysing DNA through polymerase chain reaction and whole genome sequencing, bugs are extracted, strain types identified, and models used to determine potential sources. Factors such as seasonality, and location all need to be factored in, and if a source is found, the information is fed back to the relevant authorities and changes made to prevent human illness.
Cumaceans or Comma Shrimps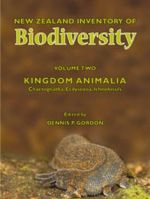 Volume two of the New Zealand Inventory of Biodiversity has just been published by Canterbury University Press. Edited by NIWA's Dennis Gordon it is part of a 3-volume stocktake of New Zealand's biodiversity. Volume two covers the part of the Animal Kingdom known as Ecdysozoa - or moulting animals. It includes the familiar - insects and spiders, and the not so familiar - such as water bears and mud dragons.
Alison Ballance heads out to Porirua Harbour with crustacean experts Sarah Gerken from the University of Alaska, Anchorage, and Kareen Schnabel from NIWA, to search out some of the book's lesser known subjects, a group of small crustaceans known as cumaceans or comma shrimps. The cumacean hunt turns up a brand new species, which is possibly not that surprising as Sarah Gerken reckons about 95% of cumacean species have not yet been discovered.
The new comma shrimp joins three species from a related group of crustaceans - the tanaids - that are also new to science. All four new species were collected during the 2011 Mana Bioblitz, which ended last Sunday with a tally of 1291 species.
Drifting off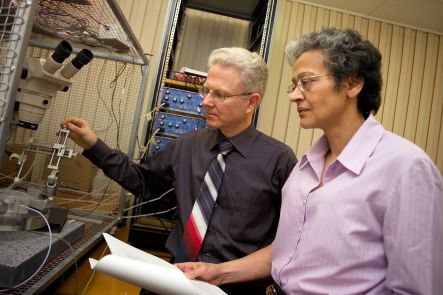 Alistair Steyn-Ross, left, and Moira Steyn-Ross hope their brain model will be a step towards better understanding of unconsciousness.(image: University of Waikato)
Although anaesthetics have been used since the mid-19th century, the exact mechanism of how they work is not well understood. Jamie Sleigh, an anaesthetist at Waikato Hospital, has puzzled over the mysterious drift into unconsciousness and how the brain slips so suddenly from being awake and aware into complete unconsciousness. When he approached University of Waikato physicists Moira and Alistair Steyn-Ross, they began a collaboration which resulted in a theoretical model of the brain. It suggests that rather than descending gradually, the brain goes through a discrete and clearly defined transition, known in physics as a phase transition. The team hopes that better knowledge of anaesthetic unconsciousness will not only improve patient safety but also bring us a step closer to understanding other changes in brain states, including sleep.
Restoring Shackleton's Hut at Cape Royds

Alison Ballance next to Shackleton's Hut, and food items that have been restored and replaced inside the hut (images: A. Ballance)
The Antarctic Heritage Trust's Ross Sea Heritage Restoration Project is working to restore four century-old expedition bases on Ross Island. Since 2006 an international team of conservators has worked year-round in Antarctica, and Alison Ballance visits the team working at Shackleton's 1908 Nimrod Hut to find out how they are getting on. She discusses the science and engineering involved in restoring historic buildings and artefacts in a polar environment with Al Fastier, programme manager with the Antarctic Heritage Trust, Lizzie Meeks, programme manager for artefacts, conservation carpenters Martin Wenzel and Randy Churchill, and object conservators Diana Komejan and Cricket Harbeck.
For the first few years of the restoration programme, efforts have focused on the building and artefacts at Shackleton's Hut at Cape Royds, and on the hut at Cape Evans. 2011 is the centenary of the construction of Scott's expedition base at Cape Evans, and while hut work is nearing completion some of the more than 10,000 artefacts from that hut are currently being worked on at Scott Base. In future years the Antarctic Heritage Trust's efforts will move onto Scott's 1902 Discovery Hut next to McMurdo Base, and the 1899 base built at Cape Adare for the British Southern Cross Expedition led by Carsten Borchgrevink.
You can listen to a 2007 Our Changing World story about Antarctic hut restoration here.
Object conservator Diana Komejan and conservation carpenter Martin Wenzel working on food storage boxes outside the hut (images: A. Ballance)